Well, as promised, here is the guest room.  I love it – so tranquil and pretty.  Sometimes, when Gregory and I want an extra peaceful night's sleep, we come here.  The bed is a full, so it is pretty cozy with us and the cats, but it makes for such a nice change.
As for the updates to the room, here's what I did:
The walls are painted in Butterfly Bush, trim He Loves Me (I know – how cute is that?), both from Miller Paint.  I added two pictures above the bed, one I made, one I bought.  The wall lamp next to the bed is the Arstid from Ikea and perfect for reading, as it has a neat swivel head.  I would like to paint the little side table and make a bed skirt.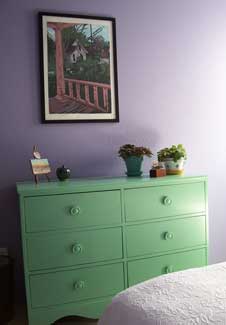 Painting this chest has been on my to-do list since buying it ten years ago.  Yikes!  Better late than never.  The color is called Frog Belly by Pratt and Lambert.  Isn't it just perfect?
Here's what it looks like when you're cozied up in bed.  Previously, the door and trim were the original wood.  Normally I don't like to paint wood, but this wasn't in very fine shape, having taken a beating over the years, so the paint really makes it.  The odd looking spot above the square painting (by Jamee) is a neat ceramic cicada that I bought in France last summer.  Of course it is green!
Comments are now closed.
Art + Craft
Blogroll
Gardening + Nature
Healthy
News + Opinion
People
Thoughtful
Archives