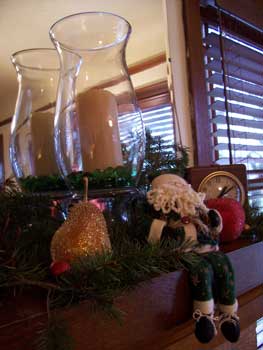 Isn't it neat how life works out?  You think you are going to do one thing, but for some reason it doesn't happen, and there you are doing something better.  That was our Sunday.  We got up and moving rather leisurely with the intention of walking to get the hubster's hair cut.  However, once we found the coupon we were to use (our household is quite thrifty) and realized it wasn't a walking distance affair, we had a change of plan.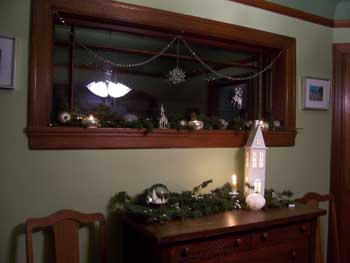 Still determined to walk, we set out in a different direction and collected the greens for this year's holiday mantel and window.  Though I was a bit worried about finding enough, there was plenty.  There always is.  Then we came home and decorated, taking in the heady scent of evergreen.  If Christmas has a scent, that is it for me.  Wonderful.   New additions include the diamond church (Gregory's name for the sparkle) and the tall white house.  It is simple and pretty and a bit of a hodge podge, but I like it just the same.  The hubster thinks it's pretty neat, too, especially since we have one small box of decorations and use what nature provides on a fun walk, together.  He is also quite fond of the fact that the greens go right into the fireplace when we're done, filling the house with the scent of the holidays one last time.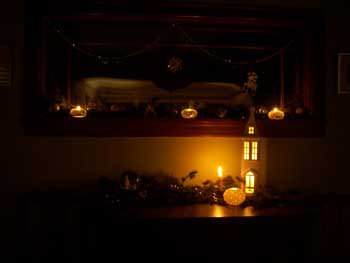 This last shot is for my Dad.  When I lived at home, and all the decorating was done, he would turn off the lights.  We'd sit quietly in the glow of the tree and admire the beauty of it all.  Shh…
Tags: Decorating
Comments are now closed.
Art + Craft
Blogroll
Gardening + Nature
Healthy
News + Opinion
People
Archives