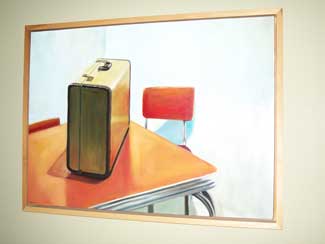 I've got something brewing that kept me from getting quality sleep last night.  I woke up probably a half a dozen times, got a drink of water, listened to the soft sighs of my dear husband, and eventually gathered up enough fatigue to return to slumber myself.
When I woke up this morning, still a bit tired, my mind wandered, like it always does.  It went upstairs and looked at this painting in our TV room (by Gabriel Fernandez – a little overexposed but kind of dreamy and, thus, on order).  Then a poem came.  I scribbled it down while still in bed, cats grumbling at each other, competing for cuddle time with mama, feeling sleepy themselves.  Anyway, I liked it; maybe you will too.
Lusting, longing
For pillow-topped voyages,
Sheets caressing the legs.
Further into the cocoon, she desires to be.
Everything is at hand,
Suitcase packed for the conceits of slumber.
She waits in anticipation before realizing
The train has left the station,
Leaving a wake of morning thoughts behind.
In dread, she waits once more for its arrival,
Clock ticking back the seconds.
Colleen Sohn
Tags: Poetry
Comments are now closed.