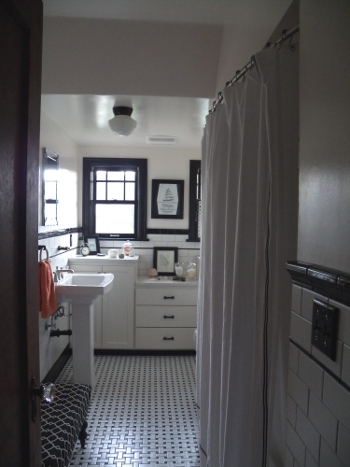 Well, here it is, our Mary Poppins bathroom, practically perfect in every way. Remember that? I think it was written on her measuring tape.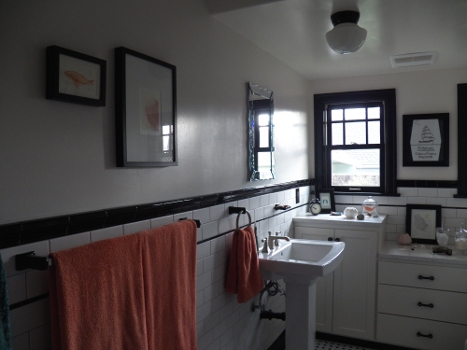 I finally got the art on the walls and had halfway decent light. It only took six months, nearly to the day, since the whole project started, but getting all the right pieces was not so easy. So much so that I painted three myself, and made the domed whale, too.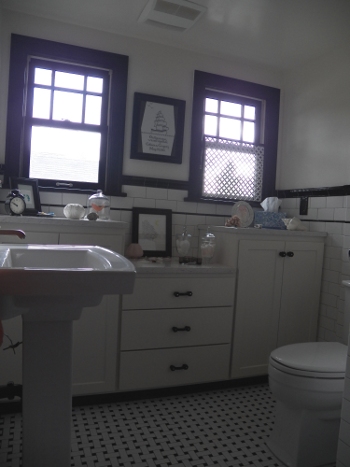 The hubster made the cool looking screen over the window, so the neighbors won't see us nekkid. It lets in the most marvelous light while also letting me bird watch. I've got my priorities straight. It will get some tweaks and a twin on the other window, but don't fret, no one can really see in that one, unless they are actually in our yard, and then we have a problem, Houston.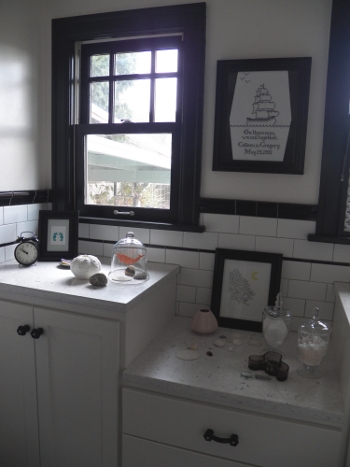 Greg's favorite piece is the ship. It's a cross-stitch I designed to commemorate our wedding (almost nineteen years!) and sewed over many, many nights. It says, "On these seas, we sail together."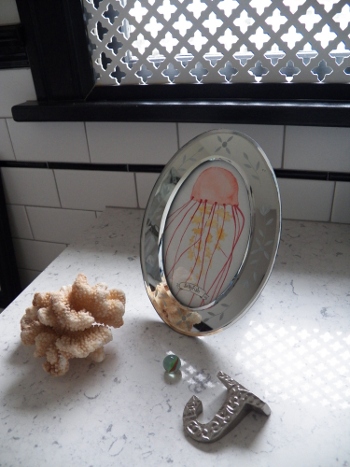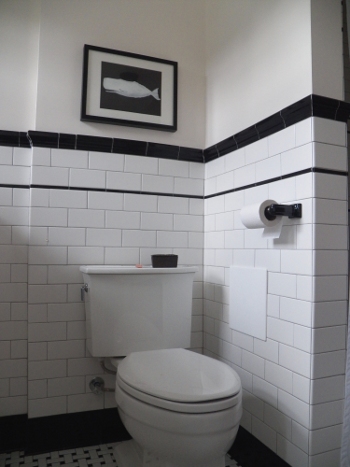 The jellyfish and the whale I painted. Did anyone see that awesome documentary about the Sperm Whale on PBS? Goll-ee, my love for them was taken up a notch. They are amazing creatures.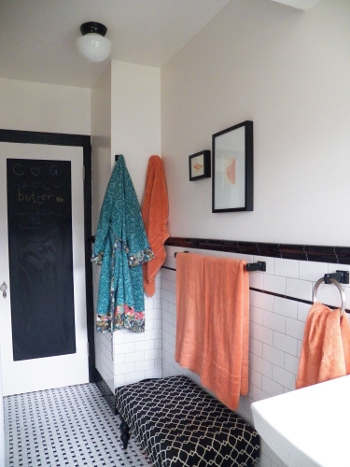 I love it when the hubster sits on the bench, often with a cat on his lap, while I take a bath. He is such good company. We also like to leave notes on the chalkboard paint on the back of the door, a truly awesome idea, really. Butter!
The beautiful shower surround. We had an overhead light put in, so it is no longer cave-like. In it's previous incarnation, our bathroom, and especially the shower, was quite dark.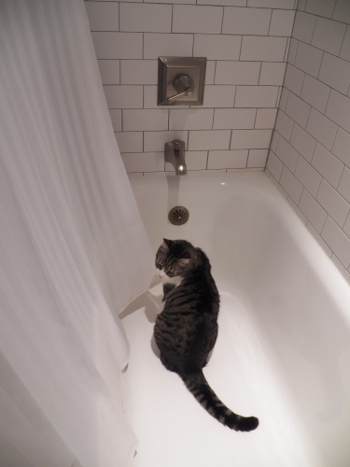 Look how lovely the light is! So very bright, like bathing under the sun. The Little Man approves, too. He was meowing up a storm after I'd finished all of the photos, so I went back and took this of him. I guess he hasn't quite gotten his fifteen minutes of fame.
If you find yourself wanting what I've got here and live in the Portland-Metro, give Alex from Western Oregon Builders a call, and tell him you want Colleen's bathroom. He'll know who you mean. Bless his heart, it might have been easier to take up residence in the guest room; he spent so much time here!
Fixtures, etc:
Rejuvenation: Porcelain Collection lights, switch plates, soap dish (the white one in the shower is original – the one item we kept), towel and toilet paper holders, fluted black glass knobs and pulls.
Kohler: Archer pedestal sink and commode, Memoirs faucet, tub spout, and shower fixtures.
Ballard Designs: Classic Bench in Arden fabric.
Land's End: Organic Cotton towels in Light Paprika
Tags: cats
Art + Craft
Gardening + Nature
Healthy
News + Opinion
People
Archives