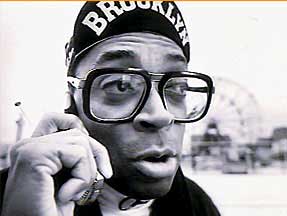 Hello, Mars Blackmon here.  Not really, it's just me, Colleen, but the title fit today's topic, and I've got a soft spot for Spike as Mars, especially with the glasses.  Well, to be honest, Mr. Lee's spectacles are always pretty spectacular (HA!).  Seriously, they are.  The man's got good taste.
I loved those Nike commercials when I was in high school.  I even had the poster with Michael Jordan palming Mars' head like a basketball, his feet suspended in the air.  Very cool.
But that isn't what this post is about.  It IS the shoes.  I love them!  Loafers, flats, and wedge styles being my favorite, but I also wear very practical Birkenstocks and sandals around the house.  They're not very cute, but they keep my feet happy.
Almost as much as I love shoes, I love a good deal, scoffing at the idea of paying full price.  This photo is my latest batch of exceptional bargains from Nordstrom Rack.  I paid $110 for all three when the original prices would have had me spending $395!  That's only 28% – a banner day!
My other favorite spot for bargain prices, and not just on shoes, is Sierra Trading Post (www.sierratradingpost.com).  I've gotten nearly all of my Birkenstocks there and usually at 60 – 70% off retail, not too shabby.
Three cheers to Mars, happy feet, and good deals!
Comments are now closed.