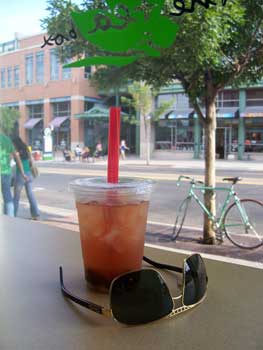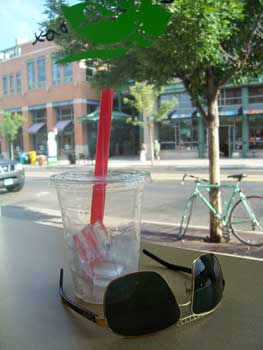 Good morning gentle readers.  I hope you had a good week!  Mine was a whirlwind of driving, talking, eating, laughing, hugs, kisses, more talking, definitely more driving, and sleeping in my grandparents gigantic bed.  In all, it felt like the pictures, a tall glass of delicious boba tea drained, quite magically, in an instant.
It was a week of infinite blessings, of good cheer and camaraderie, of seeing people I hadn't in ages, and appreciating the wonders of technology that brought us all together.  Life, quite simply, is GRAND.
And now, today at least, I've got to figure out what to do next.  I need a new routine.  My body is finally ready for a little more vigorous exercise.  I want to get the self-publishing ball rolling for Polite Society, finish the short story I started before I left, as well as the novel I began last year (The Sometimes Sordid Tale of My Penmanship).  My generous mother-in-law Martha gave me a beautifully bound book of paper, much in need of drawings and watercolors, and my precious Portland friends now have their kidlets in school, so there's time during the day to be together.  So much goodness, I tell you.  I just need to get it all on paper and figure out a way to do it all, as Mary Poppins would say, "In the most delightful way!"
So rather than recount my Colorado adventures (don't fret, this will be done), today I am setting my intention to arrange my time so that I can be all that I can be.  Maybe there's something you're wishing to organize?  I say, let's go forth together!
Comments are now closed.