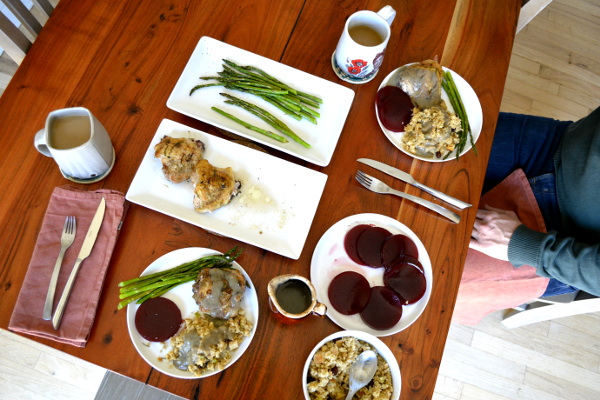 Happy 2020! I hope your holiday celebrations were as lively and enjoyable as ours. This was our not-so-fancy Christmas dinner: pan roasted chicken thighs, roasted asparagus, sliced cranberry sauce, stuffing and gravy. No pie and lots of movie watching and puzzle making! It was the best day.
Fear not about the pie, however, as we spent Boxing Day with the local cousins (yay!), and our contribution was a ham, homemade fudge (walnut & cranberry pecan), homemade maple cream liqueur (scroll down for the recipe), spiced wine, and a bourbon pecan pie. You know, all the essential food groups.
It was a grand day of eating, chatting, D & D (our party continues to slay), more eating, a little drinking, and watching a couple episodes of The Mandalorian. We are actually in the know on a current event! Ha. That Baby Yoda is adorable.
We were also up late enough with weather fine enough for a midnight stroll (Juniper was ecstatic to be out so late, little cutie) to witness the annual AdAmAn display on top of Pike's Peak. It only took three years! If you don't know about it, it's a group of climbers who endure a freezing hike the two days prior to New Year's and set off fireworks at the stroke of midnight.
Greg and I are not generally keen on fireworks in a been-there-done-that kind of way, but this display really is something, illuminating the peak in spectacular fashion! Here's looking forward to next year…
And to yesterday's lunch – a zucchini, apple, dried cranberry, and feta salad, with a little apple cider vinegar reduction dressing. The tops! All the basic holiday food groups were a bit excessive, so we are doing a much needed reset. The body brims with gratitude.
And if you are any kind of maple fan, you will be grateful for this recipe! Our friend Alex is Canadian and gave us this delicious Maple Cream Liqueur from Cabot Trail. We absolutely love it, but it isn't available in the United States. Sadly, there isn't anything quite like it here, and as I scoured the internet for recipes, came up blank. So I did a bit of tinkering and ended up making a version I actually feel is superior. It is SO easy, too.
Maple Cream Liqueur
1 cup pure maple syrup
1 cup gold rum (I like Bacardi), whiskey would also be wonderful
1 cup heavy whipping cream
2 teaspoons cocoa powder
Mix maple, your booze of choice, and the cocoa powder in a mixer or with a hand blender until smooth. I tried to do this with a whisk, but the cocoa powder is super finicky and kept floating on top. Add the whipping cream and mix on low just until combined. You don't want to make it frothy. Store in an airtight container in the refrigerator, and serve over ice or in your favorite cup of coffee. I have no idea how long this keeps because it's too good to not want to drink. Enjoy!!
Art + Craft
Blogroll
Gardening + Nature
Healthy
News + Opinion
People
Thoughtful
Archives