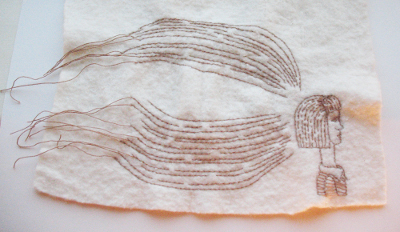 The Worry Jar
 Fretting, on the verge of worry, she walks slowly to the library, really a glorified office, but possessing more books than anything, she feels justified in the label. There, on the highest shelf, it waits. The Worry Jar. A beautiful apothecary glass, it holds, quite literally, a lifetime of worries, or at least the significant, remembered ones, worthy of writing in her finest hand on a slip of paper.
The whole endeavor was her mother's idea, a method to quell the anxious heart of an overly nervous child. "We'll write whatever is worrying you down, put it in the jar, and that will be the end of it, okay?" Though it didn't exactly work as promised, the hope it offered soothed her like a balm, which, like so much in life, was enough. As a result, the jar had never once been emptied, and moved, along with its owner, contents lovingly swaddled in a towel and carefully packed in a box, nearly a dozen times, even crossing several international borders.
They were positively crammed in, and she remembers now, after writing her last worry (what was it?) and masterfully packing it into the jar, that there was not a millimeter more space. What to do? She carefully takes the jar from its high perch, holds it before her eyes and peers in, wondering what harm there could be in letting just one go. A simple one, from the bottom, and childhood? Yes, she thinks, she could definitely step on a crack and not break her mother's back. How silly she had been!
She carefully sets the jar down and begins to unscrew the lid. As she does, something unexpected happens, for it begins to vibrate, gently, at first, but then with something nearer to violence. She tightens her grip and brings the jar back to eye level, realizing the worries are moving, spinning, gyrating, like bees? Yes, bees!
Though she doesn't understand the alchemy, she most certainly understands the desire for freedom, so she hurriedly sets the jar on the desk and turns the lid. She closes her eyes, and the bees swarm, humming and fanning her like a queen before disappearing into the ether.
In the quiet of their absence, she opens her eyes, heart aflutter, and glances about the room. Had it really happened? The jar lay on its side, empty, save a glossy slick of honey and a single slip of paper, written in her mother's hand, that reads: Don't worry, sweetheart. I love you.
…
Art & Letters is a collaboration:
Story written by Colleen Sohn
Artistically interpreted by Maren Jensen
Tags: Art & Letters