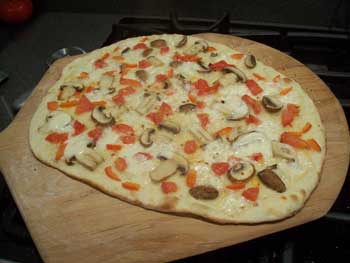 We just got our highly anticipated list of Willamette Week's 100 favorite restaurants, their yearly focus on yummy goodness in all five quadrants and beyond (yeah, I said five – we've got the Keep Portland Weird bumper stickers for a reason).  Of the 100, we've eaten at 53.  Yikes!  Do we really eat out that much?  Yet, why haven't we tried all of these?
In this same spirit, here is our list of favorite restaurants and some of our favorite dishes.  Places we go often, places we itch to go more frequently but must restrain ourselves for fear of bankruptcy or obesity.  What are your favorites?
Asian:
August Moon – Sesame Chicken and Szechuan green beans
Chaba Thai – Som Tum Salad, Pad Kee Mao, Red Curry with Pineapple
Stickers – Anything on a skewer, Scallion Cakes, and Kung Pao Chicken
Latin Flavor:
El Tapatio – Eddie is the sweetest server ever, but I would not eat him.  That would be wrong.
Pambiche – Ropa Vieja, Maduros, Tostones, anything with ham.
Pata Negra – scrumptious tapas of every stripe, but go when it is warm – this place can be downright chilly.
Viva Italia!:
La Buca – Abituale (number nine, number nine…), Caesar salad, Fettuccine Alfredo with a side of red sauce.
Vincente's
Southern:
Clay's
Cannon's
Screen Door – Peanut Butter Pie!
The Country Cat – The Whole Hog
Sip:
Bubble Bubble – Ginger or Coconut Bubble Tea
Bipartisan Cafe – Coffee and Pie – you can't go wrong.
The Observatory – The food is good too.  Smoked whitefish – delish.
The Maiden – Absinthe!
Very Portland:
Caldera – Stroganoff
Clyde Common
Higgins Bar
Laurelhurst Market
Navarre
Toast – Hippies Use Front Door Granola, the Burger
Bistro:
Broder – I'm a big fan of the bords.
Savoy – Fried Cheese Curds, Macaroni and Cheese.  I like cheese (and Christmas).
Carafe
Everett Street Bistro
Indian:
Chennai Masala – definitely worth the drive to Hillsboro.
India Oven
Sandwich:
Pause – Reuben (house smoked meat) and the huge cheesy-beefy appetizer thingies, yowza!
Sweetness – All Day Breakfast Sandwich
Ethiopian:
Queen of Sheeba – Mushrooms
Jarra's – Lamb shank
All American:
Burgerville
Diane's – Biscuits and Gravy
Mike's Drive-In – the Portobello Burger is my current fave, but nearly any burger will do.
Tabor Hill Cafe – Chicken Caesar Salad
p.s.  The pizza is my own.  I already order like Sally Albright.  I don't need to add picture taking of my food to the list of idiosyncrasies.
Tags: Restaurants
Comments are now closed.