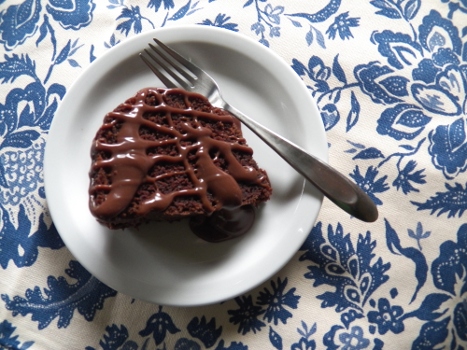 How-dee-do to you this fine Tuesday, with chocolate on top, Guinness Chocolate Cake, to be ever more precise. This was part of our St. Patrick's Day feast. Normally, I do not pull out the big guns for this holiday, but we were having our friends Matt & Kelly over, so I dove right in.
I corned some beef, which turned out dee-licious, despite not being in its marinade for ten days (I thought I was pretty on top of things with four), roasted potatoes, made red cabbage with apples, and the aforementioned cake. We were stuffed to the gills and that doesn't even count the lovely conversation and my wild peals of laughter, of which there were many. I was on a roll, to say the very least.
Now to the cake because my Grammy asked. I adapted this from Smitten Kitchen's Chocolate Stout Cake, which tastes nothing like beer, just chocolate heaven. The reason for the post name is that I bought half and half instead of the whipping cream she calls for, so a ganache was turned into a sauce, and I gilded the lily by adding Bailey's. I could not have been happier with the result!
Cake
1 cup Guinness
1 cup unsalted butter
1/2 cup cocoa powder
1 cup whole wheat flour
1 cup flour
1 1/2 cups sugar
1 3/4 teaspoons baking soda
1/2 teaspoon salt
2 eggs
2/3 cup Greek yogurt or sour cream
Sauce
6 ounces milk chocolate chips
5 tablespoons half & half
1 tablespoon Bailey's Irish Cream
Preheat oven to 350. Butter a bundt pan really well. Bring the Guinness and the butter to simmer in a saucepan over medium heat. Add cocoa powder and whisk until smooth. Cool slightly.
Whisk flour, sugar, baking soda, and salt together in a large bowl. Whisk the eggs and yogurt together in another bowl until combined. Add this, along with the Guinness mixture to the flour until completely combined. Pour batter into the bundt pan. Bake until a tester comes out clean, 35-45 minutes. Cool completely in the pan before turning onto a pretty plate.
Sauce:
Melt the chocolate, half & half, and Bailey's over low heat until smooth, stirring constantly. Drizzle over individual slices of cake.
Enjoy!
Me, Matt, and Kelly about a year ago. We need a new photo, one with the hubster. Love you guys!
Tags: Cooking and Baking, Recipes