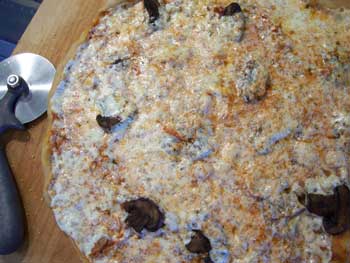 Two bits of deliciousness for you this morning, pizza and cake.  I read an article on pizza in one of the fancy food magazines.  It was rather long and somewhat interesting and highlighted a small town back east that has two very famous pizza joints that have been there a terribly long time.  I guess there is quite an either/or dichotomy going on.  You aren't, apparently, allowed to like the pizza at both places.  I have to say that I abhor (strong word, I know) rules like this.  I don't like being told whether or not I should have certain feelings.  This is not up to other people.  It is up to me.  Anyway, as I was reading, I had this rather cinematic a-ha moment.  She and Him was playing in the background and I swear Zooey Deschanel hit a high note when I read this sentence: Let the pizza dough rise for twenty-four hours.
I don't know how many of you make your own thin crust pizza and wondered why it just isn't as good as those places in the article, or for the hubster and I, Lombardi's in Manhattan, and Grimaldi's at the foot of the Brooklyn Bridge.  I am savvy in the kitchen, but ever since taking a bite of that gooey, chewy deliciousness on an idyllic summer day, I was pretty stumped.  The crust never tasted as good as theirs, never had that wonderful texture.  Then that sentence jumped off the page, and I had it.  The secret wasn't in the yeast or the flour or the water.  It was all about time.  Give it time. So, the day before you want your pizza, make your favorite dough.  Punch it down the next morning and let it rise again, until the oven is smoking hot (we put ours at 500) and your ingredients are ready.  Then wait for the magic moment when you slide that bad boy out of the oven and you take your first bite.  Heaven.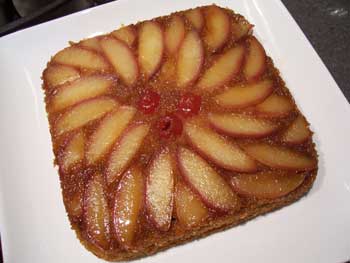 Though we didn't follow our pizza with dessert – we were too full of cheese for that, I am following my thoughts on it with this delicious upside down cake.  There is a restaurant in town, which shall remain nameless, that actually has the gall to put instant butterscotch pudding as the brown sugar and butter layer.  Words cannot describe the horror of my first bite.  This is not cake; it is a travesty.  This recipe is the real deal, and, to be honest, it is probably easier and cheaper than buying that instant stuff, seriously.  You can make it with pineapple, peaches, apricots, nectarines, plums, or apples.  It's really hard to go wrong.
Fruity Upside Down Cake
adapted from the Better Homes and Gardens Cook Book, 75th Anniversary Edition
2 tablespoons butter
1/3 cup brown sugar
1 tablespoon water
Enough fruit to cover the bottom of the pan – I used two sliced nectarines and three maraschino cherries
1/2 cup whole wheat flour
1/2 cup all purpose flour
1/3 cup sugar
2 teaspoons baking powder
2/3 cup milk
1/4 cup butter, grated with the small holes of a cheese grater
1 egg, beaten
1 teaspoon vanilla
Preheat oven to 350.  Melt two tablespoons of butter and 1/3 cup brown sugar in a small saucepan.  Add the water and stir until combined.  Pour into an ungreased 8″ square pan. Carefully arrange your fruit in a pretty pattern over the syrup.
In a medium mixing bowl, stir together the flour, sugar, and baking powder.  Add the milk, butter, egg, and vanilla.  Stir until combined.  Spoon the batter over the fruit in the prepared pan.
Bake for 30-35 minutes, or until a toothpick inserted in the center comes out clean.  Cool for five minutes.  Run a knife around the edge of the pan to loosen, and invert onto a plate.  This is best served warm.
Enjoy!
p.s.
When I called the hubster down to have some cake, he said, "Wow!  That's pretty.  Did you take a picture?"  This coming from the guy who likes to tease, "Um can I eat, or do I have to wait for the camera?"
Tags: Cooking and Baking, Recipes
Comments are now closed.