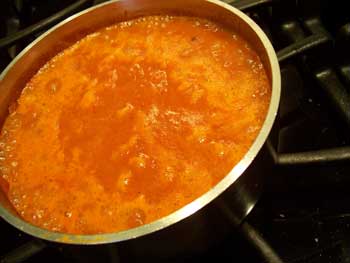 Bubble, bubble, toil and trouble!  Sorry, it was SO called for here.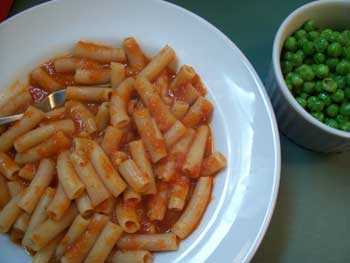 Hi there!  I've got another quick recipe for you, and it is quite delicious.  I initially made it as a pasta sauce, but then, as I was reheating it one day, realized it would be equally good as a soup.  Two for one!
Red Pepper and Tomato Sauce or Soup
1 large or 2 small red bell peppers (I've never used orange or yellow, but I think they'd work)
1 large or 2 small garlic cloves, peeled
1 pint jar of peeled tomatoes or a 14 oz can (whole or diced, with the juice)
2 tablespoons olive oil
1 teaspoon red pepper flakes (omit if you don't like spicy)
salt, to taste
Roast the bell pepper(s) over an open flame (I do it over a stove burner) or under the broiler, until nice and black.  Place in a bowl with a lid or a brown paper sack to cool.  Once cool enough to handle, peel off as much of the skin as you can, then remove the seeds and stem, compost or discard.  Place the garlic in the jar of a blender; let it whirl around on high until it is nicely diced.  Don't worry if there is a chunk left.  Add the peeled bell pepper, the tomatoes, olive oil, red pepper flakes, and salt.  Whirl until smooth.  Correct the seasoning, if necessary, and place in a sauce pan and heat until hot for the soup.  If you'll be using it as a sauce, let it reduce a bit, as you'll want it thicker, at least I do.  Like I said, zippy.  This makes about 24 ounces, enough for two big bowls of soup or pasta but would double nicely.
Enjoy!
Tags: Cooking and Baking, Recipes
Comments are now closed.