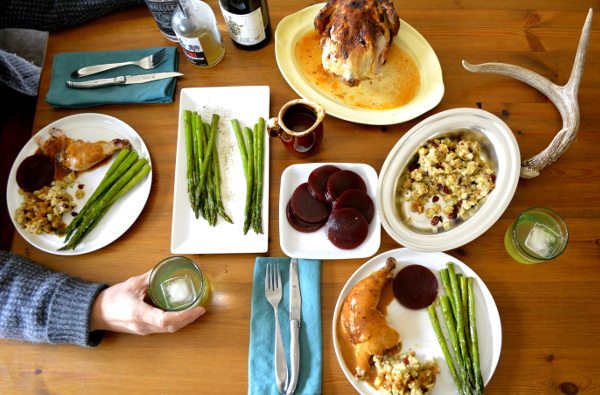 Hey there, and happy Friday! This early thanks brought to you by sentimental, comfort craving Colleen – because I can eat Thanksgiving all-year-long. Uh-huh. I am the not-at-all ashamed woman wiggling to unstick hot-shorted legs from the naugahyde booth of a chain of comfort food restaurants in high summer. Joyfully proclaiming, "I will have the turkey dinner. Please and thank you." Only this wasn't turkey, but chicken. Turkeys are too big and make too many leftovers. For if you know me at all, you also know that I don't care much for them either, save a few exceptions: lasagna, sesame chicken,  the best sweets. The hubster likes this just fine. Reason No. 1037 our marriage is a match made in H E A V E N. Yes.
And now for the sentimental bits – the napkins are a shade my of my favorite turquoise. The boozy drink is a moscato made absolutely stellar with the addition of Atapino and Wheeler's Gin, two of Santa Fe Spirits magical infusions of the landscape of my soul. Delicious. Jellied cranberry because childhood and perfect slices. The stuffing serving dish (with snazzy lid that is not pictured) is from my Grandpa, who got it as a prize way back in the 1950s. The little brown jug was my Grandma's. We used it to pour the gravy with a heavy hand.
And now, for the thanks:
Thankful for my Grandparents, whose treasures litter, in the best possible way, my home. Thankful for how long I had the privilege of knowing my Grandma. Thankful that I know my Grandpa still, that we play, laugh long and hard, and give the best and most tender of hugs. Grateful for my parents. Grateful for their health and caring. Grateful to live in this house in this beautiful city. Grateful for friends near and far. Grateful for the best parts of my family, showing me how to be generous, loving, resilient. Grateful for our favorite four-legger, her joy and tenderness. Grateful for the hubster, his every kindness and sweet love. Grateful for this breath and the one after that. Always.
Tags: Cooking and Baking