I've got a slew of recipes to tantalize your taste buds today.  Plus, apparently, a little alliteration.  Silly me.  I also have a whopper of a headache, a slight fever, an earache, and swollen tonsils, so if this wanders off into the territory of the bizarre, don't be surprised.  I am not myself.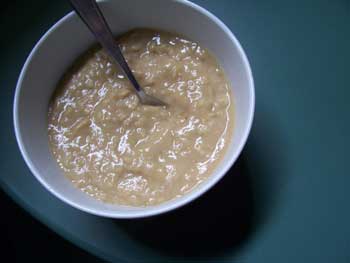 First off, oatmeal (sorry Sarah – I think you'll like the rest!), but, though it may look it, it is no ordinary oatmeal.  No sirree, this is something special brought on by hunger, of course, a lack of bacon, an ugly banana, and a need for protein.
Ginger Banana Oatmeal
oatmeal
water
salt
powdered ginger
banana(s)
egg(s)
milk
Start making the oatmeal – add some salt and ginger, to your taste.  While that is going, puree a banana (I used my hand blender in a large measuring cup), add an egg (more if you're making it for more than two people), and some milk.  Make it as thick or thin as you like.  Just make sure you mix it thoroughly.   Once the oatmeal is finished, add about one third of it to the banana mixture, and, again, mix thoroughly.  Then add this to the original pot of oatmeal, and stir, stir, stir.  If your banana was as ugly and sweet as ours was, you won't need much sweetener, if any.  This is sooo good, like a breakfast pudding, but loaded with fiber.  A happy start to the day.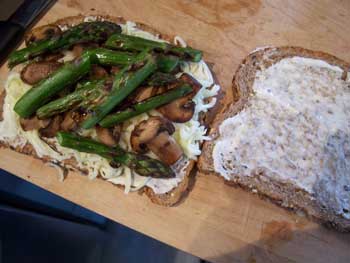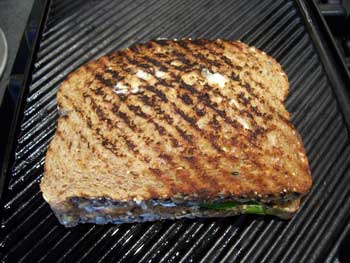 Now it is lunch time and spring time!  Perfect for asparagus, and mushrooms, and exclamation points!
Grilled Asparagus, Mushroom, and Cheese Sandwiches
Sliced Bread
mayo
Greek yogurt
creamy horseradish
Dijon mustard
salt
pepper
bite sizes of asparagus (cooked however you like – mine was roasted with EVOO, salt, and pepper)
sliced mushrooms (sauteed in a little butter or EVOO)
Havarti Cheese, grated (I learned this from Sarah – it melts so nicely!  I can't believe I hadn't thought of it before.)
Start heating up your pan over medium heat.  I use a Le Creuset that covers two burners.  It is the tops!  Make the spread –  I mix equal parts of mayo and yogurt (this makes it light and creamy), then add little bits of the rest until it tastes just right, being careful with the mustard and horseradish, unless you like to cry while eating.  Save when they are tears of joy, I am not keen on this.  Construct your sandwich, heat, and eat.  It tastes great with potato chips and a crisp apple.  Some sparkling apple juice or wine probably wouldn't be bad either.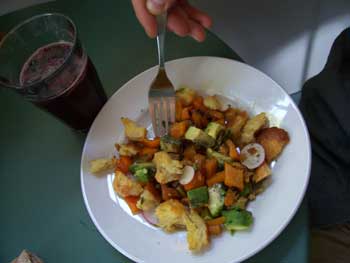 Tastes Like Sunshine Salad
One lovely Friday evening, we weren't terribly hungry, and I had a small but beautiful assortment of produce in the fridge, but no lettuce or tomato, and stale heels of bread.  It's a sunshine salad!
Tear up stale bread into bite sized pieces.  Toss in olive oil (not too much).  Sprinkle with salt, pepper, and crushed dried rosemary.  Toast in the oven until golden brown.  Allow to cool.
I roasted the orange bell pepper over the burner and put it in a brown bag to sweat.  Meanwhile, I diced an avocado and sliced some radishes.  Rub the skin off the bell pepper and dice.  Arrange everything nicely on a plate, drizzle with vinegar (I like white balsamic), EVOO, and sprinkle with salt and pepper.  Drink with the next recipe – we did, and it was marvelous.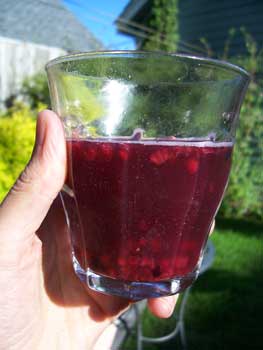 We had half a bottle of red wine that had been sitting for a few days, not exactly good to drink on its own, so I made a zippy sangria-type beverage.  I got out a pitcher and muddled frozen blueberries and raspberries (about 3/4 of a cup?) with a little frozen apple juice concentrate (a tablespoon?), then I added some Grand Marnier (splash!), brandy (splash!), the red wine, and a can of sparkling water.  Man was it good!
Enjoy!
Tags: Cooking and Baking, Recipes
Comments are now closed.