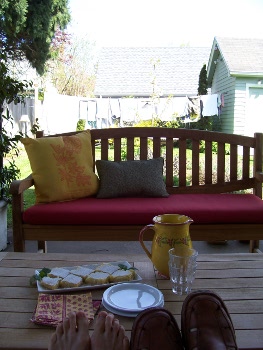 Good morning all!
I hope today is the beginning of a bright and beautiful week for you.  Yesterday was a glorious day of firsts around here, many of them captured in the above photo.  It was sunny and warm enough to dry laundry outside!  Sunny enough for a little happy hour of lemon bars and sparkling lemonade on the patio!  Sunny enough to walk to dinner wearing sandals and a dress –  no down vest required!  Hallelujah – we'd waited so long that's it's truly worthy of all the exclamations!  Seriously, this is the first time in my nearly thirteen years as a Stumptown girl that the wet weather has gotten me down.  I spent many a recent day pining for warmth and light, so when two days in a row came, and on a weekend, no less, I was pretty jazzed.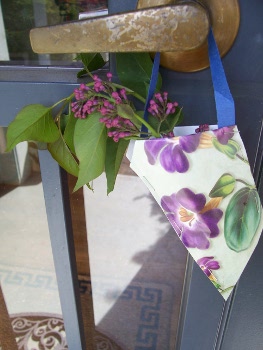 On our way out the door to dinner, we found this bit of sweetness left by a neighbor.  I don't know which I love more, the act of kindness or lilacs!  I have one in the back, just behind the clothesline, and its blossoms are just beginning to open.  Happiness!
Now to the second bit of the title: mussels, my favorite gift from the sea.  My love for them is pretty serious, so don't go messing with the menu, people.  I've made special trips to places to indulge only to have my spirit squashed like a bug at their absence.  This place used to have mussels but now has only crap burgers and too loud Grateful Dead on the hi-fi.  And I like the Grateful Dead! It's just that everything is exaggerated when food disappointment is involved.  The hubster will vouch for me on this.  There's a certain look in my once sweet eyes that means we gotta get outta here.  I'm not happy.  Thankfully, I have enough sources that I need not rely on one place and can get my fix in practically every area of town.  Should you share my love for mussels here are the best PDX preparations:
Lauro Kitchen – served rather dramatically in a cataplana (a cool looking copper pot) with peppers, onions, and sausage.
St. Jack – A very French preparation with ultra crispy crusted baguette.
The Observatory – there's Sake in there, and it's damn good!  (An aside – the whitefish spread is pretty spectacular, too.)
North 45 – This place takes mussels as seriously as I do, with a half dozen or more preparations on the menu at one time.  Deciding is not easy.
Here's hoping it's a wonderful week for you and yours, one without the heartache and destruction of weather disasters.  My thoughts and prayers to all who lost so very much.
Tags: Portland, Restaurants
Comments are now closed.
Art + Craft
Blogroll
Gardening + Nature
Healthy
News + Opinion
People
Thoughtful
Archives