Happy Tuesday, one and all!  I hope everyone had a lovely weekend.  We had great weather for the Halloween festivities, and the kids came out, so cute in their full regalia.  This year seemed to be the one for lots of make-up: ethereal, sparkly, and shimmery for butterflies, trees, and cats, a whole litter of them!  However, our most memorable costume came in the form of an ATM.  This little cutie pie was all business, too.  I put the candy in the slot, and he said in his most digital, Stephen Hawking-esque voice, "Thank you for your deposit," all while slipping out a receipt.  The best.  In the most unusual category, we had several adult trick or treaters.  Let me clarify by saying that these were not parents of children happy to take candy when offered, either.  They were out with the kids, plastic pumpkins and costumes, fully into the party.  The oldest had a head of grey hair and was probably fifty-sixty years old.  It takes all kinds!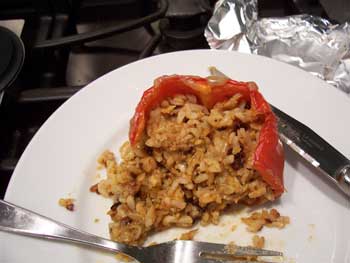 Now for something delicious, though this picture isn't exactly the best sell.  Stuffed Peppers.  I hated these as a kid, but now I realize it was probably due to the fact that they were made with green peppers.  I loathe green bell peppers.  They ruin whatever they touch – salad, pizza, a Philly sandwich.  Yuckety, yuck, yuck. Since it was my first time, I only made two, just in case it wasn't about the color of the pepper, so you can easily adapt it for more.  We gobbled them up so quickly that I wish I had taken a chance on four.  Alas, no delicious left-overs today, next time.  As well, this is a really simple and quick to come together recipe, especially if you have leftover rice.
Stuffed Peppers
2 bell peppers, pick your favorite color
2 cups prepared brown rice (or white, if you prefer)
1/2 cup garbanzo beans (not dried)
1 pasilla pepper (the dried and very wrinkly kind found in the Mexican aisle)
1 large clove garlic, peeled
salt and pepper, to taste
Dressing:
1 tablespoon sesame tahini
1 teaspoon balsamic vinegar
salt, pepper, and smoked paprika, to taste
water
Preheat your oven to 350.  Slice off the tops of your peppers, as close to the top as you can, so you have lots of room for stuffing, but still have an intact "hat."  Carefully remove the seeds and the white ribs of the pepper.  Set aside.
In a food processor or blender, pulse the pasilla pepper and garlic until very fine.  Add the garbanzo beans, pulse just until chunky.  You don't want a puree.  Combine this mixture with the rice in a separate bowl.  Add salt and pepper, to taste.
Fill peppers with the rice and bean mixture.  You may need to compact it to get it all in.  Put the "hat" back on the pepper.  Place in a baking dish – I used a bread pan to keep them from falling over.  Depending on how many you're making, you could use the same, an 8″ square pan, or large muffin tins.  Bake for about 50 minutes, until heated through.
While the peppers bake, make the dressing.  Combine everything but the water in a bowl, whisking until combined.  It will be pretty thick.  Slowly add the water until it is thin enough to pour.
Take off the hats, drizzle with dressing, and serve.
Variations:
Beans?  Use your favorite bean – pinto, black, cannelini…
Meat or Mushrooms?  Use prepared chorizo, Italian sausage, or sauteed mushrooms in place of the beans.  Or use an equal amount of rice, beans, and sausage/mushrooms.
Cheese?  Dice a mild cheddar or jack cheese fine and mix it with the rice, etc
Poblanos?  Stuff poblano peppers instead of bell.
Jalapenos?  Dice some jalapeno and mix in with the rice to up the heat.
No matter what, enjoy!
Tags: Cooking and Baking, Recipes
Comments are now closed.