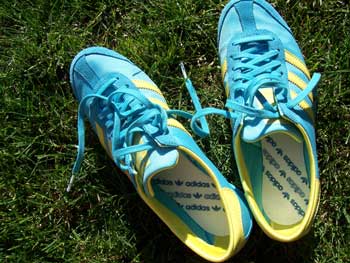 It all started with a new pair of shoes on an impossibly beautiful day…
"Addicted" – Amy Winehouse
"My Adidas" – Run D.M.C.
"Adios" – Glenn Miller
"Adriatic" – Lanterna
"Advent" – Dead Can Dance
"Ain't Talking 'Bout Love" – Van Halen (always make me think of Steve White –  hi friend!)
"Airbag" – Radiohead
"Alabama Song" – The Doors (must have whiskey – oh you know why!)
"Alberta" – Eric Clapton
"Alive & Kicking" – Simple Minds
"All Along the Watchtower" – Jimi Hendrix
"All Apologies" – Nirvana
"All Blues" – Miles Davis
"Allegria" – Gipsy Kings
"All My Life" – Echo and the Bunnymen
"All the Thing's You Are" – Ella Fitzgerald
"America" – Simon & Garfunkel
"Amor Em Paz" – Antonio Carlos Jobim (I'll bet Don Draper liked this…)
"Amoreena" – Elton John
"Antarctica Echoes" – Vangelis (Yes, I do know how cheesy I am)
"Any Colour You Like" – Pink Floyd
"April in Paris" – Thelonius Monk
"As Heaven is Wide" – Garbage
"Atomium" – Autour de Lucie
"Autosuggestion" – Joy Division (lose some sleep and say you tried)
"Azalea" – Louis Armstrong
Tags: Music
Comments are now closed.