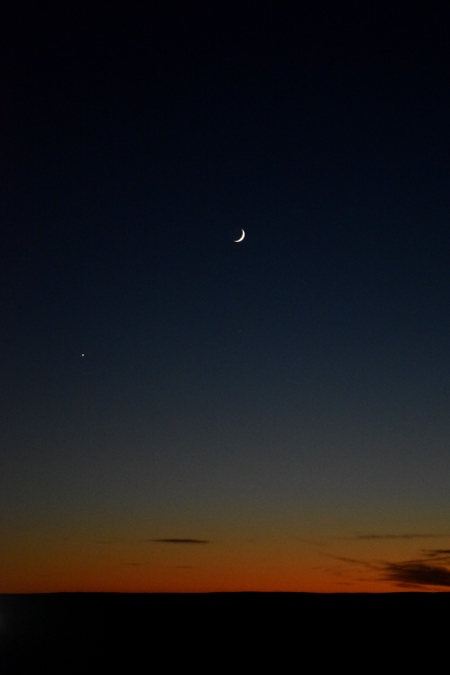 Almost there…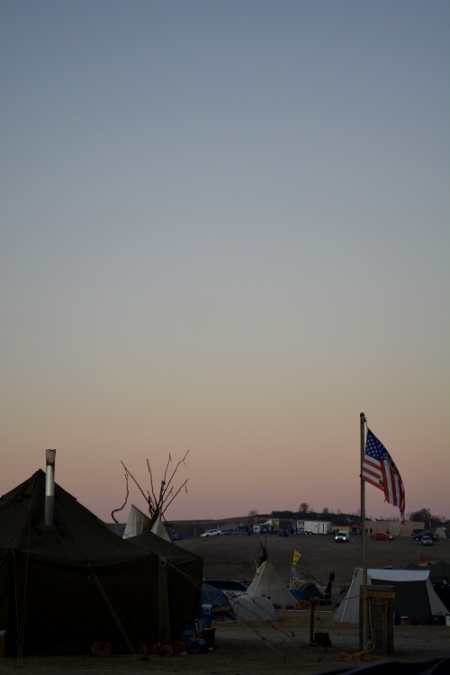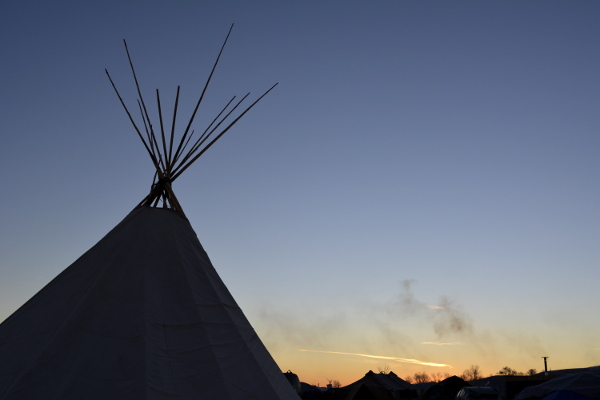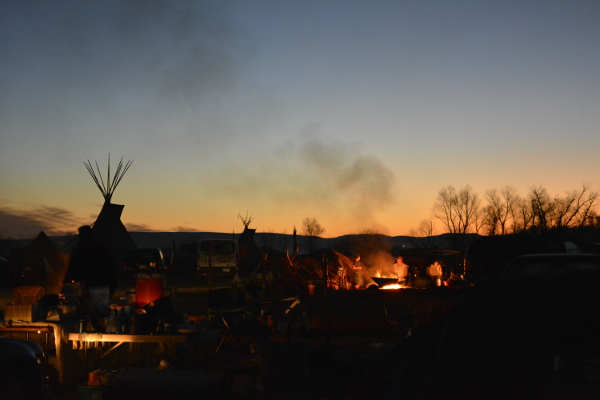 Morning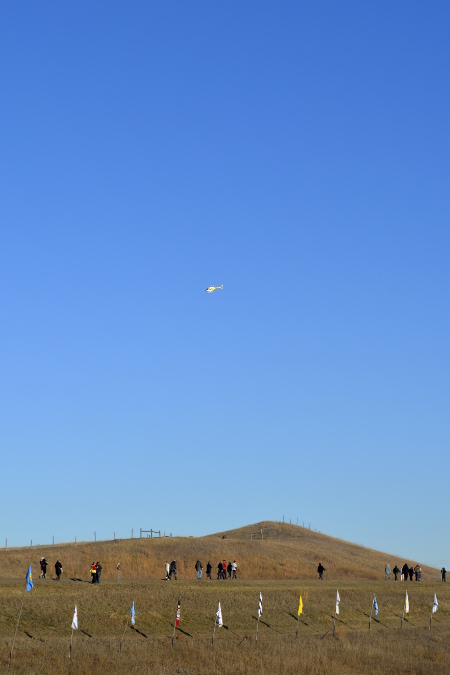 The first full day of my stay, that helicopter from the DAPL side flew in low circles for hours, observing the camp.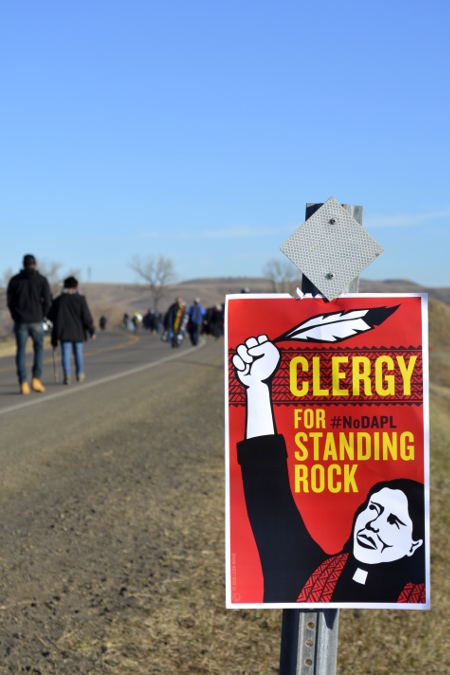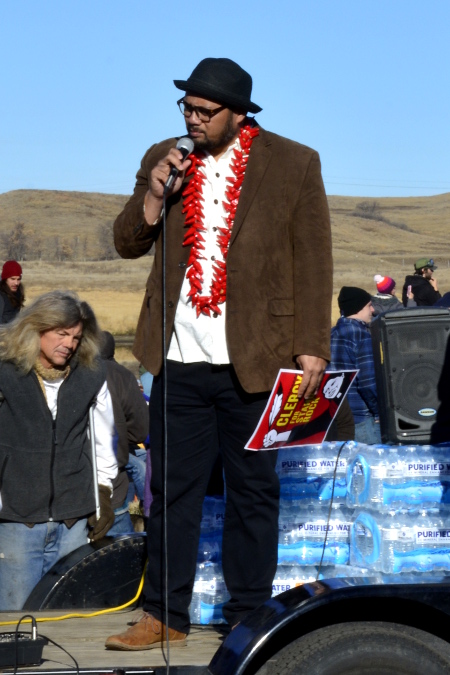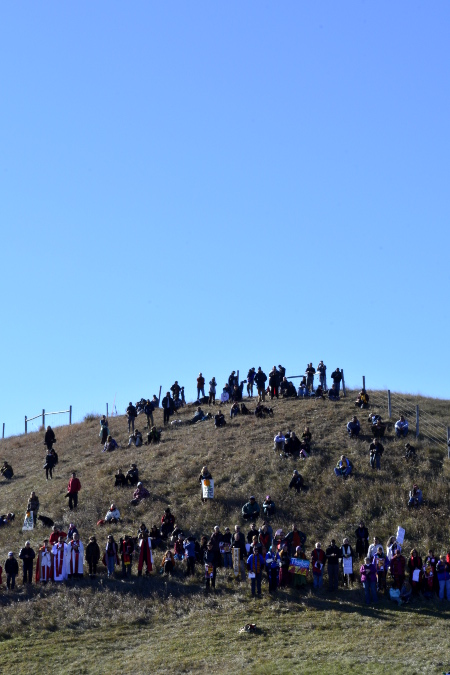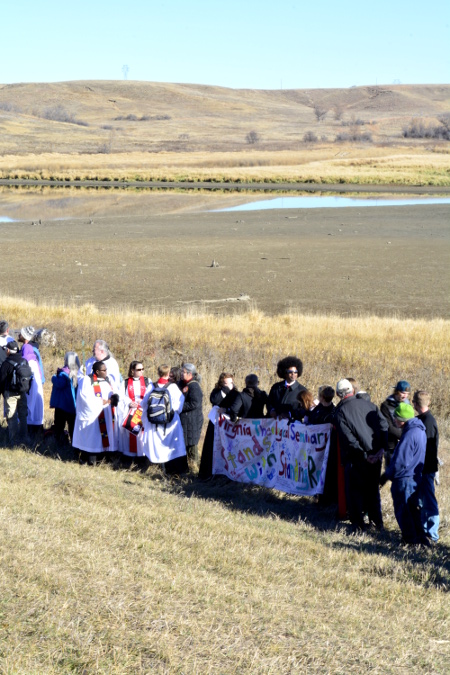 More than 500 members of the Clergy came from all over the world. The banner is from Virginia. The man speaking above was from Polynesia.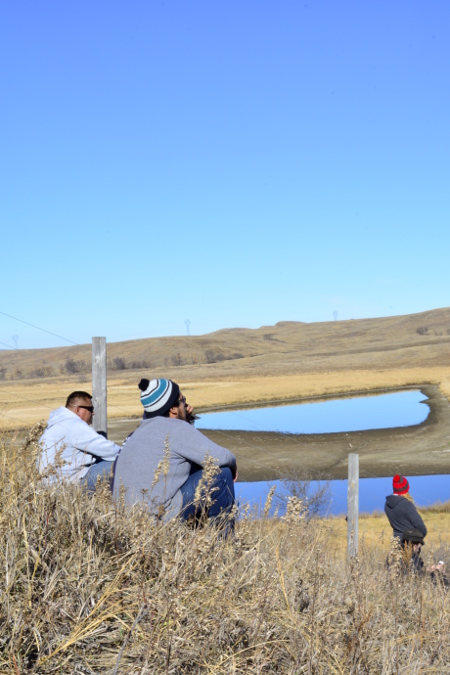 A ten minute walk from my car, this hill was the only place I had cell reception. I was mostly out of reach.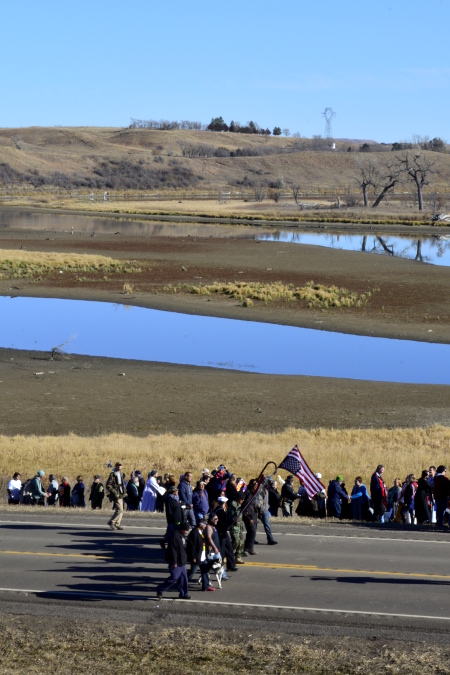 An upside down flag is a sign of distress.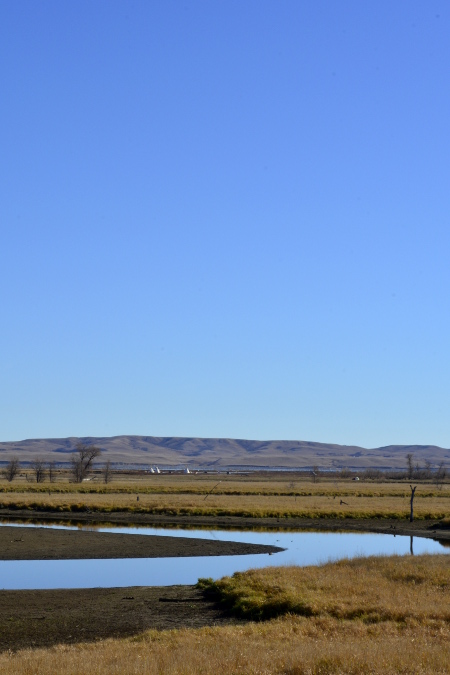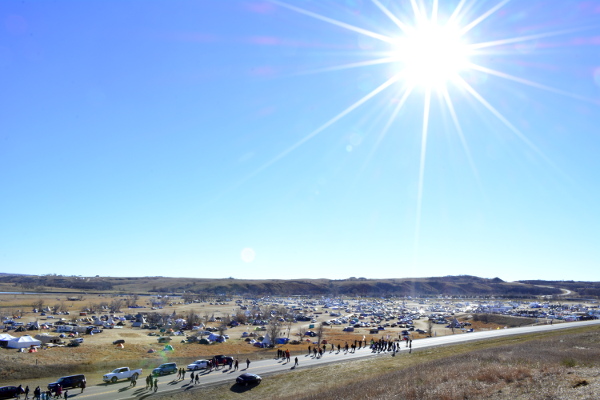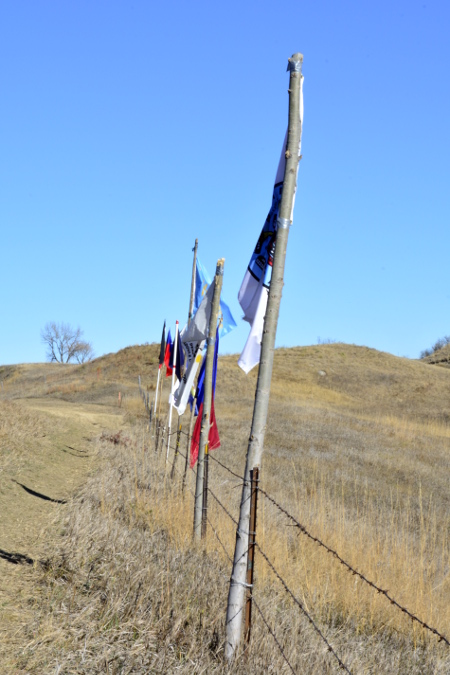 More than 300 flags from different Native Nations line the boundaries and entry as a sign of support.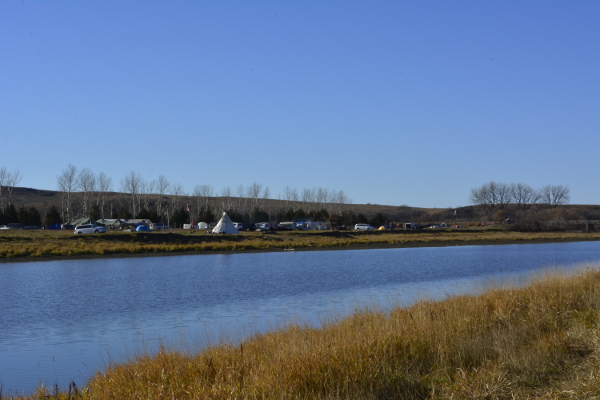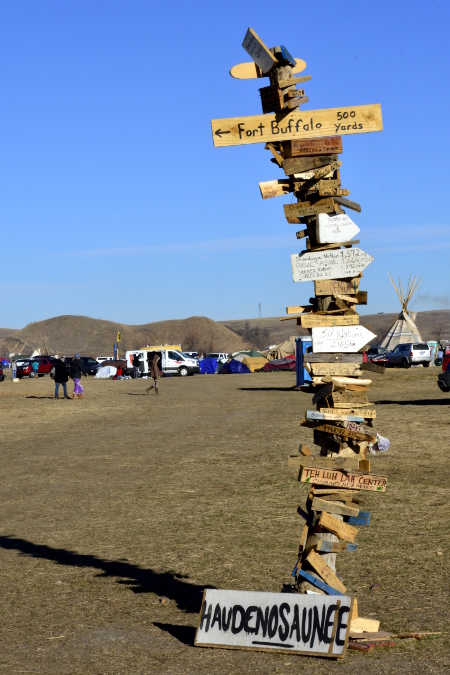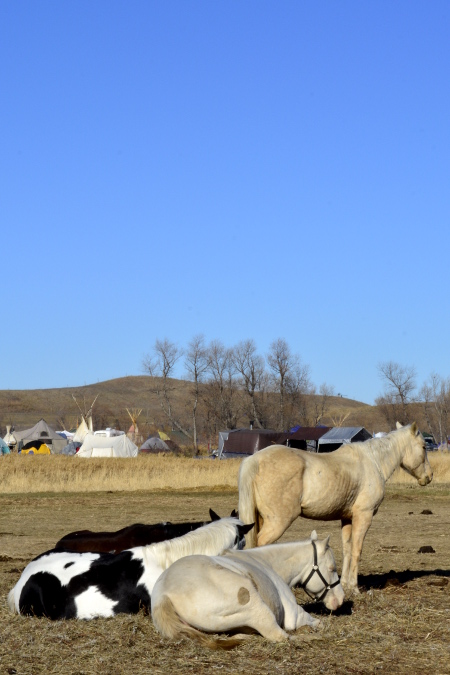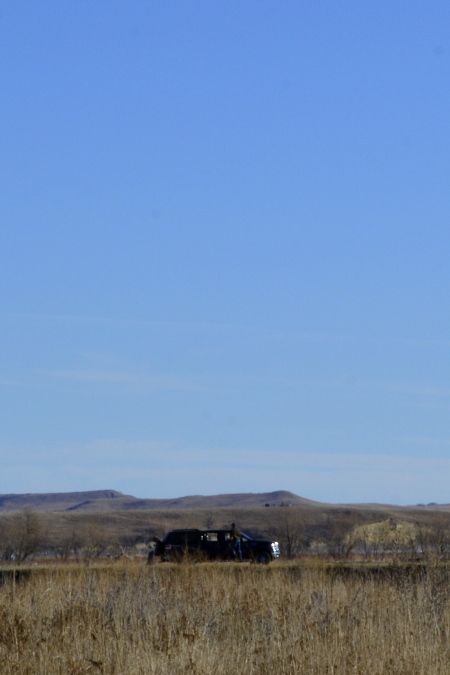 There were many efforts at intimidation. This SUV from the DAPL side was in lock step with me and three others as we walked the boundary. A host of men with binoculars observing the camp, day in day out. In addition to the helicopter circling camp in daylight hours, a plane with its lights off circled throughout the night. They also had bright spotlights shining on the camp from dusk to dawn.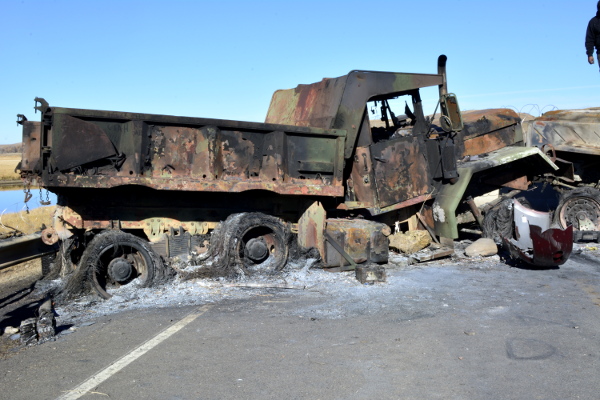 Burned Army dump trucks on "our" side but believed (though not confirmed) to be the work of DAPL, and some person's effort to make them peaceful.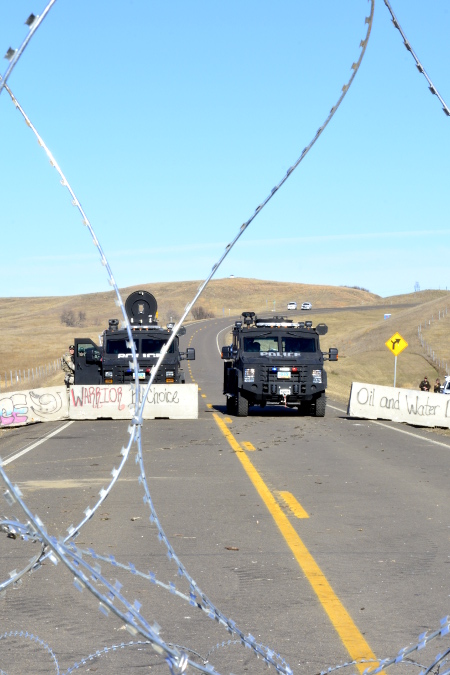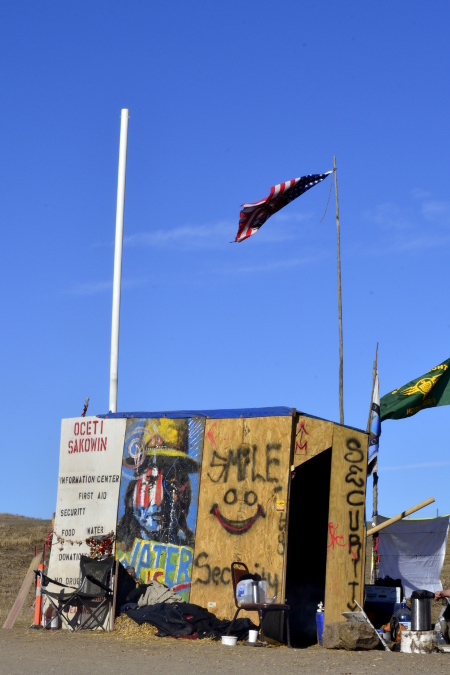 My spirit animals knew before I did, arriving by the dozens two evenings in a row, to flap and caw and bring me to the realization that I had work to do, in North Dakota as a Water Protector.
I had thought about it in early summer but resisted, mostly because I didn't want to be a hypocrite. I worked part-time in the Oil and Gas industry in college. Try as we might to be as green as possible, like powering our home with renewables and driving a super fuel efficient car (42 mpg on this trip!), it is still lubed and fueled by oil. I take vacations on air planes. I heat my home with natural gas. What right do I have to take a stand against something so critical to my everyday comfort and being?
It was a gnawing in my belly. The Dakota Access Pipeline (DAPL) was moved from a location upstream from Bismarck due to the major threat it would pose to the city's water supply should there be a breach. By doing so, the the Standing Rock Sioux were essentially told that the quality of their water was of little consequence in comparison to the good people who reside in the state capital. I could not abide it, so I went, to offer moral support and help however I could.
It is a 13-14 hour drive from my neck of the woods, so I rose early and drove all day, buoyed by more crows, eagles, hawks, and falcons, flying so near to the car as to make me believe that their wings were propelling me forward. I arrived to a checkpoint spectacle of giant FBI pick-ups, police vans, and flashing lights worthy of a Radiohead concert. Before I was allowed to proceed, a surprisingly kindly police officer (there is much documentation to the contrary) asked me my intentions and glanced through the windows at the contents of my car.
A few minutes down the road, I arrived at the Oceti Sakowin Camp and was greeted with a hearty, "Welcome home!" I cried at this, of course. You know me. Exhausted and exhilarated to finally be there, I fumbled around a bit, listening to the Natives drum and sing, feeling the energy and thrum of so many people united for a common purpose. After a time, and getting the car stuck in an abandoned fire pit (also quickly nullifying my intention of being entirely independent during my stay by having to ask for help getting out, rats!), I found a spot to park the car, which would also serve as my camp: kitchen, changing room, bedroom, dining room, and storage. All in a Mini Cooper!
That night, and every night after, I slept poorly, a function of sleeping on a bucket seat, the cold, and the drone of the small plane flying round and round and round, in constant surveillance of the camp from the DAPL side.
Each morning, shortly before dawn, a booming voice announced, "Wake up relatives, you have work to do. Wake up relatives, you are making history. Wake up peaceful warriors, Mother Earth needs you." And so we rose. I prayed and meditated each day, first with the 500 members of the clergy who came to show their support, then during the women-led Water Ceremony, and finally during the beautiful Horse and Fire Lighting Ceremony, which also saw the historical (and I believe first time) unification of Native American Tribes for a common purpose.
Every moment was meaningful. I met so many wonderful people and never once felt unsafe. I smoked from a Native's pipe. I offered tobacco to the water and fire, to strengthen the potency of my prayer, our shared hopes. I worked hard, each day, all day, after prayers until sundown and the camp went mostly dark, sorting and organizing clothing donations, helping people find what they needed, always with a laugh and a smile – a warm coat, a sweater, shoes, a pair of boots, taking only the shortest of breaks to pee and grab a quick bite to eat.
When I felt weary or tired and the compressor on the refrigeration truck wasn't loudly thrumming, I heard Tsosie, the voice of the camp. A Navajo, come up from New Mexico, who told stories, relayed the daily news, gave big announcements and small, of meetings and decisions, of people offering rides, those who lost or found items, a key, a wallet, a cell phone. He and others sang and drummed after sundown, the camp alive with their unique song. His voice, at once grounding and uplifting, was the absolute highlight of my stay. I am forever grateful to him and our shared bear hugs.

And now, for you, should you wish to go:
Be as self sufficient as possible. Bring all of your own supplies with plenty to share, including water. I was the goofy white lady handing out candy, ear plugs, and packages of baby wipes (there's no running water or bathing facilities).
It is COLD at night, very cold, and soon enough, it will be cold AND windy all the live-long day. Be prepared. Bring lots of layers. Have super-warm bedding. Keep your water wrapped in bedding to keep from freezing outside.
Like any community, there are a mix of good and not so good people. I left candy and baby wipes outside the Mini, but not a single person took any without me actually giving it to them. Then, a guy, with whom I spent a considerable amount of time helping find pants and a belt, took my water bottle. A woman sorting clothes with me got her backpack stolen. If it is valuable or meaningful to you, keep it on your person or secured in your car or tent.
I was amazed at the number of white people wandering around like tourists. The camp is not an attraction. We, especially as white people, are there to serve and stay out of the way, not vice-versa. Give as much as you can. Don't be a jerk with your own agenda.
Pick up after yourself; leave no trace. If you camp in a tent, please remove the stakes from the ground upon your departure. Nobody wants to to trip on their way to the toilet in the middle of the night or puncture a tire. Luckily, I found a shovel to dig up the ones careless people left behind.
Should you wish to help:
The camp is in pretty constant need of seasoned fire wood.
Please, do NOT send useless clothing. I was absolutely appalled by the amount received on a daily basis. The Natives have been screwed over a million ways to Sunday, and sending stained undergarments, ripped, torn, and soiled clothing, rumpled prom dresses (really?!), and sexy short-shorts, is, in my view, yet another a slap in the face.
Items to send: thermal underwear, wool socks, work boots, ear plugs, sub-zero sleeping bags, wool hats, gloves (winter and work), winter coats (like you'd wear camping), snow pants, blankets, tents capable of withstanding high winds, rope, heavy duty tarps (not the cheap blue ones), baby wipes, waterproof jackets and pants. Long skirts for women and girls are also in high demand, as they are worn to prayer ceremonies.
For more information, go to ocetisakowincamp.org, including ways to send money.
Be peaceful. Pray for the water protectors. Pray for the people who want the pipeline. Be forgiving.