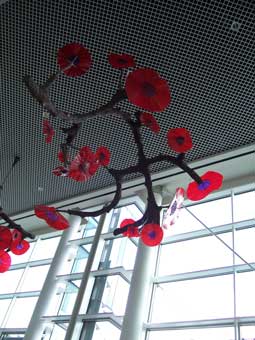 I watched part of the American Masters program on Philip Glass the other night.  He is quite the dynamic character, and his music really reflects this.  It was so fascinating to learn how there is always music playing in his mind, and when he composes, sometimes he has to strain to hear the notes.  He doesn't necessarily feel as though he is writing, but rather listening and scrambling to get it down with pencil and paper before it is gone.
I think writing is like that for me.  I've always got my stories going, and sometimes, not nearly often enough, I sit at the keyboard and try to keep pace with the words as they stream through my mind.  On the occasions when I hear music, unlike Mr. Glass, it is never my own, unique composition, though sometimes it is one of his!
This is what I've been hearing lately and actually queued up on the I-Pod.  I call it Drifting.  Try it yourself, you'll see why.
"From the Same Hill" – Brian Eno
"Astral Weeks" – Van Morrison
"Sunset Soon Forgotten" – Iron & Wine
"Johnson's Aeroplane" – INXS
"The Way" – Jill Scott
"Dime Que Te Quea" – Gecko Turner
"Umi Says" – Mos Def
"Sometime Later" – Alpha
"Jennifer" – Eurythmics
"Naima" – John Coltrane
"Moonlight Mile" – The Rolling Stones
"Going to California" – Led Zeppelin
"North Dakota" – Lyle Lovett
"Blue Sunday" – The Doors
"Violet" –  Seal
"Alone in Kyoto" – Air
Have a great weekend!