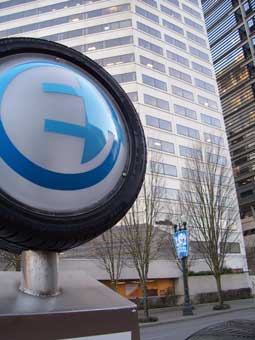 Is it Friday already?  How did that happen?
Yesterday was a really nice day, weather wise, and the weekend (save today), if the forecasters have it on the money, is supposed to be exceptional.  I plan on being out in the sunshine as much as possible.  I am envisioning some major weed pulling, a long walk (wearing a skirt!), a bicycle ride, and clothes hanging dreamily from the line.
In contrast to last week's music for drifting along, I've got a little something meant to get me plugged in, dialed up, moving, singing, shaking, and smiling.  Here goes:
"Pimpf" – Depeche Mode
"Roadhouse Blues" – The Doors
"No One Knows" – Queens of the Stone Age
"O Valencia!" – The Decemberists
"Over the Hills and Far Away" – Led Zeppelin
"Wynona's Big Brown Beaver" – Primus (Les Claypool rocks)
"No Love Lost" – Joy Division
"White Tooth Man" – Iron & Wine
"Everything" – Stereo MC's
"I Got You (I feel good)" – James Brown
"Don't Sweat the Technique" – Eric B. & Rakim
"Giant Steps" – John Coltrane
"A Little Less Conversation" – Elvis
"Ain't No Other Man" – Christina Aguilera (the girl can SING!)
"Again & Again" – the bird and the bee
"Let Me Go" – CAKE
"Prayer For You" – Texas
"Here's Where the Story Ends" – The Sundays (the story but not the playlist)
"I Don't Know What It Is" – Rufus Wainwright
"Back" – Alpha
Here's hoping we all have a wonderful weekend!