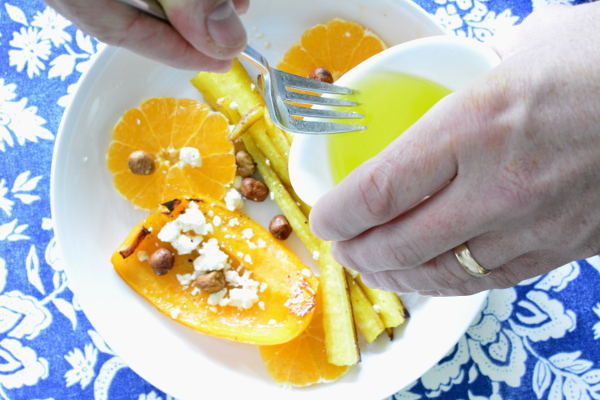 roasted carrots & peppers with orange, hazelnuts, & feta
smoky pinto beans, guacamole, and flash fried tomatoes with spicy cashew cheeze
farro and wild mushroom risotto with roasted asparagus
This afternoon, the hubster and I, cutting board shared between us, made lunch. Salad rolls with carrot, radish, red bell pepper, cucumber, a touch of cilantro, butter lettuce. I made peanut sauce while he sliced and diced, working happily, elbow to elbow. Alec Baldwin and Sarah Jessica Parker chatted away on his fabulous radio show, Here's the Thing. We commented on it, our collective and separate day, the news of the world. It was one of those times when an initially seemingly everyday moment is recognized as its truly bigger, greater, and more wonderful piece of the whole. The essence of what truly matters. Being together, enjoying a shared task in the here and now, and I told him so.
I am both happy and privileged to have the hubster working from home since moving to Pittsburgh. Did I tell you this? The sum total of his commute is a walk from the bedroom to the office, or, on longer days, from the kitchen on the main floor. Sometimes I worry that this proximity further cocoons us, that we are too much of each other. And then I establish a perimeter, take off to a Meet-Up, walk to the library or the dangerously delicious cookie shop, write or read or draw, call my parents or Grandpa, all before recounting my exploits when we snuggle, as we always do, before drifting off to sleep.
It is sappy, true, true, true, but sappy trumps mean any day of the week. The truth is I am to the moon and back glad for his presence in my life, our shared lunch breaks and the meals we create. They are acts of love and appreciation, every last one.