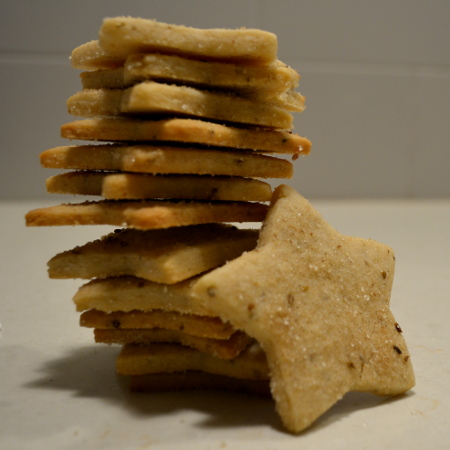 In honor of my Grandpa and the last bite he ever took, my recipe for biscochitos. These are a traditional Christmas cookie of New Mexico, and in my version, are heady with anise. If you aren't as much of a fan as I am of this delightful seed, cut the amount in half, and you'll still have a pretty stellar cookie. Also, these are traditionally made with lard. As I find sourcing the freshest lard a bit of a challenge, I make the butter and shortening combination for what I think is the best flavor.
3 cups flour (I use half whole wheat and half all-purpose)
1 tablespoon anise seed, crushed
1 teaspoon baking powder
1/2 teaspoon salt
3/4 cup unsalted butter at room temperature
1/2 cup shortening (or very fresh lard)
1 egg
3/4 cup sugar
1 teaspoon vanilla
3 tablespoons port or sweet red wine
cinnamon and sugar for sprinkling
Stir together flour, anise, baking powder, and salt. Set aside. In large bowl, beat butter and shortening until fluffy. Add egg, sugar, and wine, beat until light. Stir in flour. Divide in two portions for easy rolling. Refrigerate for 30 minutes. Roll on floured surface until 1/4 inch thick. Cut into your favorite shape(s) and sprinkle with cinnamon and sugar. You can also gild the lily by adding some crushed anise seed to the mixture (I do!). Arrange on sheet pan and bake at 350 for about 9 minutes or until the bottoms are golden brown. Remove and cool. Store in an airtight container.
I highly recommend eating biscochitos with a glass of the port or wine used to make them.
Enjoy!