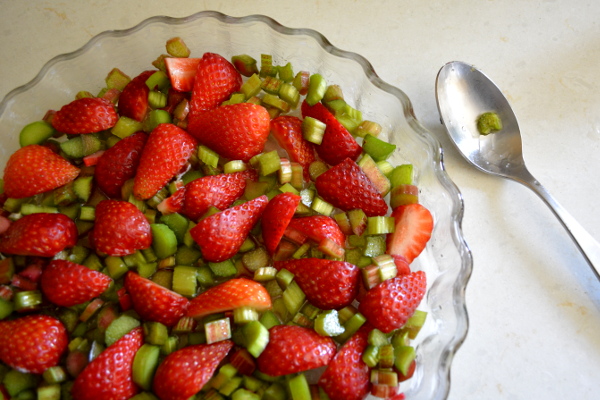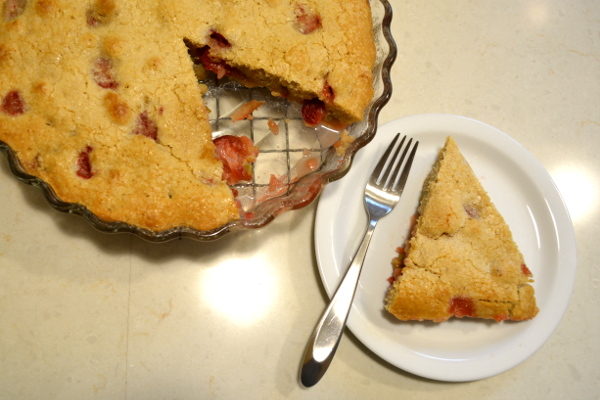 I don't post many recipes anymore, mostly because there are PLENTY of places to find them, and I don't necessarily feel like I have anything special to offer. By the process of deduction, I hope you've realized this strawberry rhubarb cake IS something special. I'll give you three reasons. 1. It comes together quickly. 2. Greg hollered from the office, "I don't know what you're making in there, but it smells AMAZING." 3. It tastes even better!
So, yeah, it's good. I used rhubarb from my garden, which makes me feel extra warm and fuzzy. The pieces are kind of itty-bitty because the stout & gorgeous first stalks, just days from perfect ripeness, were positively mauled by a hail storm. Giant sad face. Giant. These are the little babies that came after, harvested just this morning. I'll take it however it comes.
Also, if you like a really rhubarb flavor, I'd use another cup of it. I was worried that it would be too sour and was definitely wishing for more.
2 or 3 cups sliced rhubarb
1 heaping cup quartered strawberries
1/2 cup plus 3 tablespoons and 1 teaspoon sugar
3/4 cup (1 1/2 sticks) unsalted butter, cut in pieces
2 large eggs, lightly beaten
1 tablespoon vanilla
1 cup flour – I used half all purpose and half whole wheat
Toss the rhubarb in a bowl with 3 tablespoons sugar. Spread strawberries and rhubarb evenly in a generously buttered 10″ pie pan. Melt the butter in a small saucepan over medium heat; cook until lightly golden, 5-7 minutes. Pour the butter into into a medium bowl. Stir the 1/2 cup sugar into the butter. Gently stir in the eggs and vanilla, then the flour until blended. Spoon the batter evenly over the strawberries and rhubarb. Sprinkle with the remaining teaspoon of sugar. Bake at 350 degrees until crusty and lightly golden, 40 – 45 minutes. Cool on a wire rack for as long as you like. This is delicious warm or at room temperature. A dollop of whipped cream or vanilla or cinnamon ice cream would be extra-extra.
Enjoy!