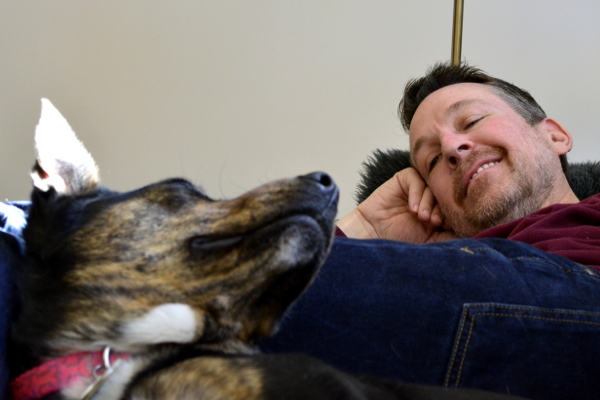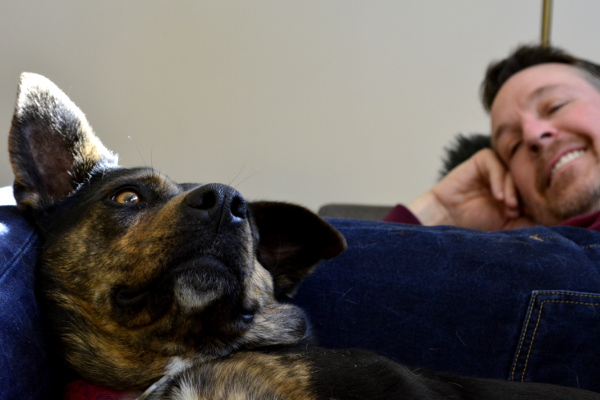 Greg and Juniper looking particularly relaxed and happy after a weekend chock full of activity.
Friday night we watched the cousin's kidlets while they enjoyed a rare evening on the town. There was MUCH play – of the football catching, block building and demolishing, and video gaming variety. There was also Boss Baby (funny!) and pancakes and bedtime stories. Once we tucked the kiddos safely into bed, we binge watched some Marvelous Mrs. Maisel (lives up to its name!) and wished there was ONE single platform for ALL video streaming, as we have zero interest in paying a multitude of fees for our television. Sigh. Incentive for us to watch the kids more often, I suppose!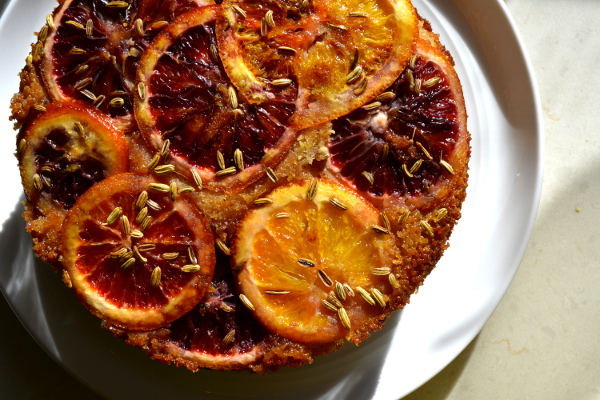 Up early Saturday morning for a long-awaited visit with some of our besties, Michael and Mary. They brought their dogs, Jesuscito and Lupita, and Juniper thought they were the cat's pajamas. We can sniff and play all day, inside, outside, run, run, run. Only one thing – do NOT touch my food, okay? Okay. Good.
I made all kinds of goodness – a pork roast, salad, spinach and ricotta gnudi (the flecked with green rolls whose name translates to naked – a jacketless ravioli). The prettiest, hands down, was the delicious orange and fennel cake because, lucky me, blood oranges are still in season and gorgeous, gorgeous!
It was a sleep over, so there was more food adventure in the form of crumpets for breakfast (sore-ee no photo). I had never made them and wondered if I had it all wrong, but they looked right and tasted like WOW! I do believe they will be on a more frequent rotation. Yes, I do.
Did I, after years of swearing I would, remember to take a picture of the four of us? No, because I always get so caught up in the being and doing of fine friendship and cooking and baking that I forget. Even though the camera is close at hand, within eye shot, even. Not the worst to happen, really, so fully immersed in the joy of our togetherness. Yes. But dang, too. I'd like to have us rounded up for the ages. I really, really would.