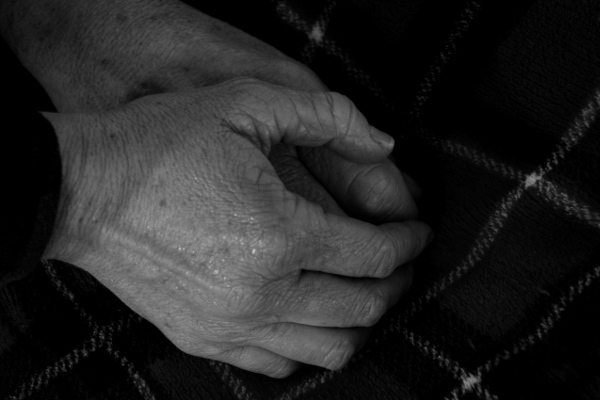 My cousin Alli holding her dad's hand. After he lost consciousness, three days before he died. Their last photo together, of a sort.
I stayed with my aunt last week, joyfully helping, with medicine and cooking and comfort and company. I spoon fed and soothed the night terrors of a man who once terrified child me with his mad driving of an impossibly cool Fastback Mustang. How strange the tides of time.
I brought enough books and magazines and craft supplies for ages of reading and fiddling and doing. We made cute felted wool pixie dolls (no photo, drat). We watched hour after hour of Brad's cool car shows and my aunt's favorite dramas. We talked.
Of the past – the sweetest memories of me watching my aunt carefully applying makeup while listening to Bread on the hi-fi. How she still has the album in her collection. Of the first time she made Ro-Tel dip and I, as a cheese loving maniac, devoured it and have since eaten just about every spicy melted cheese I can get my hands on. Her, too. We enjoyed this while I was there. It was gone lickety-split quick.
Of the future and letting go. The first time she'd be on her own, after forty-six (!) years of marriage. The hush of a home occupied by one. A life entirely of her choosing, what to do, how to be. The fearful thrill of the unknown. My love for her, then and now.
In conversation with her daughters, my cousins, I was confronted with my own letting go. It was assumed that there was bitterness on my part, my lack of relationship with certain relatives was somehow eating at me. Quite the contrary, being in a relationship with my abusers was a great source of anxiety and pain.
I once read about a psychological study that involved a subject sometimes receiving food after pressing a button and other times receiving a shock. The subject basically went crazy because they never knew what they would get. That was me. When I interacted with my tormentors, sometimes they'd be friendly, shower me with kindness, gifts even. The next time, they'd be cruel, insult me, or blame me for something entirely out of my control. Oh, the wild anxiety, fretfully anticipating what each interaction would bring. Nausea. Headaches. Physical pain.
When I finally ceased all contact, it melted away. I found myself happier and peaceful, able to sleep through the night, at ease in my own skin. The only source of anxiety or bitterness I have felt since is at the hands of the so-called "helpful" who think my lack of interaction is somehow sad or harmful or foolish or whatever. That my life is their business and I ought to behave differently.
Sad is when I disregard my own sanity and safety to forge a relationship for the benefit of others. I'm glad I know better now.