You are currently browsing the archive for the Making category.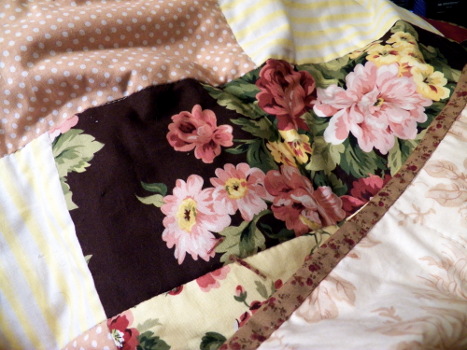 Buttons and patches and the cold wind blowing, the days pass quickly when I am sewing.
Unknown
Tags: Quoting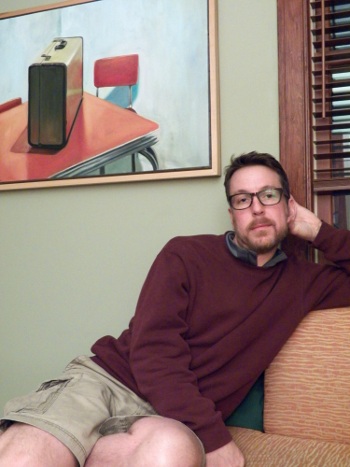 May day! May day! The first time I heard any variation of that expression was on the Hardy Boys Mysteries on TV as a kid. Man, did I love that show, and Parker Stevenson. He was pretty good eye candy, drove a cool van, and was super smart! Oh dear, what a TV baby I was. The handsome G-Man was, too, though we didn't watch the same shows. Until meeting him, I grudgingly watched any sort of Star Trek (only liking when Spock was on screen), for instance. Now, I quote it, "Earl Grey, hot," and "Make it so, Number One," while wishing for a Holodeck in the basement, among other things. Love holds very mysterious powers, my friends, indeed.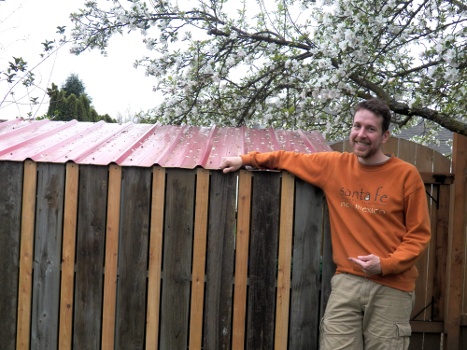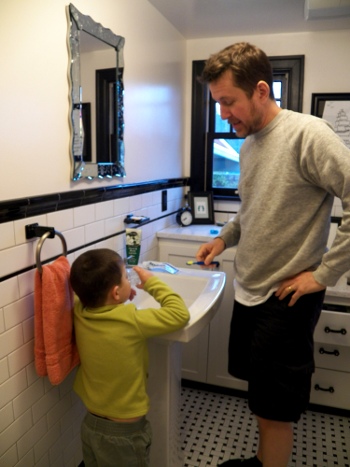 And love him, I do. How could I not? He likes art and picked out the Suitcase painting! He looks good in glasses! He builds sheds! He is a computer genius! He is good with children (a fun sleepover with our little friend last night) and cats and people, with a particular fondness for a petite sassafras named Colleen Sohn. Lucky, lucky me.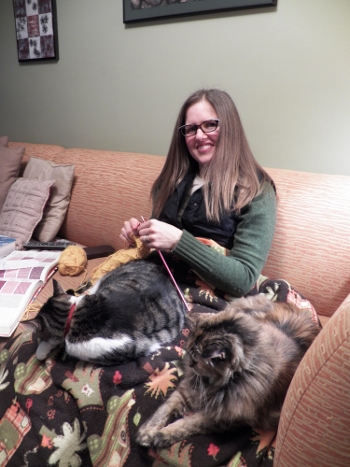 This is what my life looks like sometimes, with bi-focals.  The yellow I'm working on is a cowl for me, now finished and cozy, but in need of a hat and some matching hand warmers, no fingers, so I can take pictures and be touchy-feely.  I'm on the hunt for just the right patterns.
I have also learned after making three cowls in a week, it is hard to watch television or a movie without the click click of needles in my hands.  I feel sooo still.
p.s. My cats look huge!
Tags: cats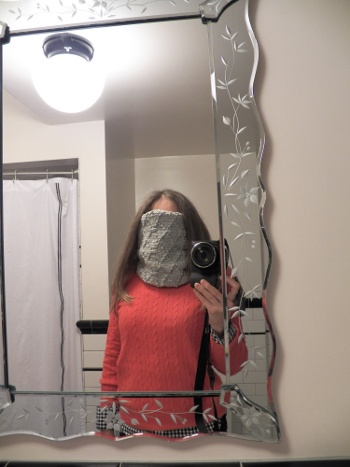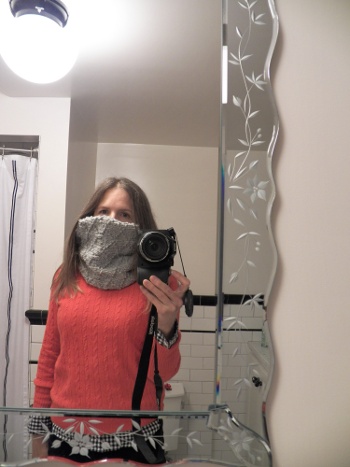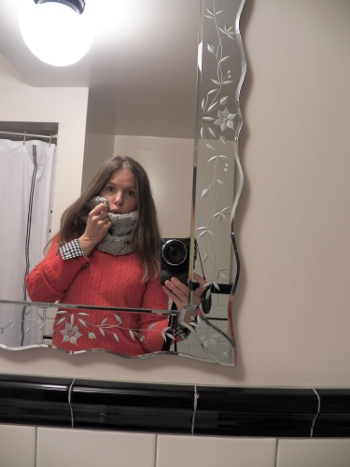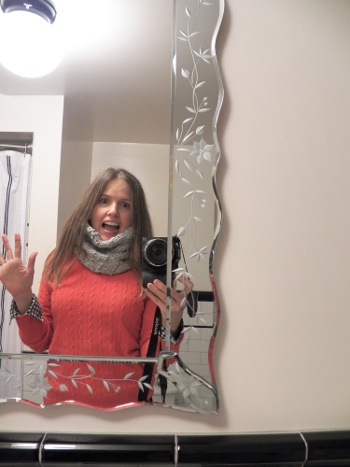 Happy Tuesday Peeps.
I finished the cowl!  Good for hiding, goofing, and warming.  I am uber (no, I did not mean Buber?!) pleased at the results, my first successful knitting project, huzzah!  Here's what I did if you'd like to replicate:
Cast on 32 sts (or another multiple of 8 ) on number 11 (8mm) needles, then knit and purl until it's the length you like.  Cast off and sew the ends together.  Take goofy photos.  Be happy.  Repeat, if desired.
I hope this is obvious, but just in case, repeat each set of directions until the end of the row.
Row 1: P1, K7
Row 2 and 8: K1, P5, K1, P1
Row 3 and 7: K2, P1, K3, P1, K1
Rows 4 and 6: P2, K1, P1, K1, P3
Row 5: K4, P1, K3
The photos remind me, I am nearly ready for the big bathroom reveal!  About time, huh?  Thanks to one set of crapper-doodle plumbers (and a good one to fix them all), this is the project that goes on and on till the break of dawn.  But we are nearly there, for reals!  I will be putting up art this weekend and then turning the den of the porcelain throne into a major paparazzi center.  Stay tuned…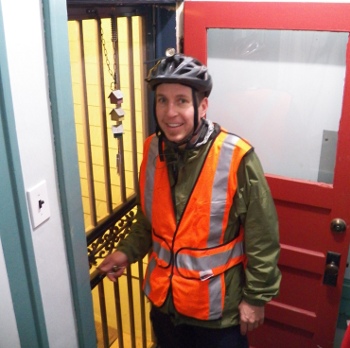 Oh, and I thought I would share a photo of my favorite bicycle commuter.  Surprise!  I am waiting for you cutie pie.  Now gimme a kiss!
Wait, wait!  One more thing, click here for the awesome Jimmy Fallon singing, a la Doors, the theme song to Reading Rainbow.  The man is awesome…
Tags: Jimmy Fallon, Knitting
See everything; overlook a great deal; correct little.
Pope John XXIII
Tags: Quoting