When my friend Andy, an ex-pat from England, called our parking strip the verge, I had no idea what he was talking about.  I thought I'd misheard him, that he was on the verge of something, but what?  Then I figured it out and decided I liked the sound of it.
This is our verge.  I am rather fond of how it has turned out, as it was a mess of weeds with occasional sprouts of grass before.  Though parking in front of it can be rather tricky.  Do you want to get out on the passenger side?  Well, you'll need to go there, but not too far or you'll hit the tree with your door, or get scratched by a shrub.  I guess that's kind of good, too – keeps out the riff-raff!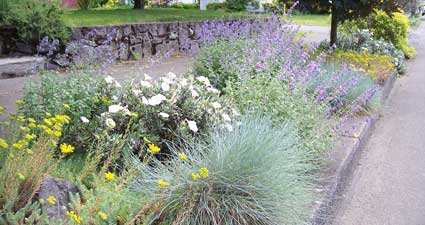 It is a happy place for many a non-human and human alike.  The bees love the tea tree shrubs (tall with the white flowers), the sedum, the catmint, and the caryopteris (green shrubs) when they are in bloom.  Many a kitty-cat lovingly nudges and takes bites out of the catmint, and the birds have a veritable fiesta with all the little bugs and seeds hiding in the greenery.  I am partial to the general loveliness of it and the fact that none of the plants need watering (three cheers!).  I hope you like it too.
Have a great day…