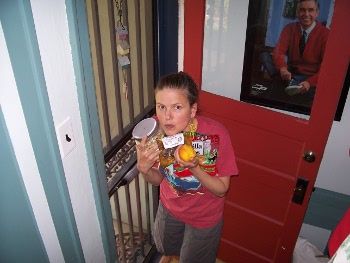 Good morning!  Happy Monday, and all that jazz.  I hope you are well.  We had a stellar weekend in these parts, and not just the Colleen and Gregory parts.  The weather was awesome, and literally the first weekend since February where there was sunshine both days.  Seriously!  We were drunk on sunshine and a little wine too, at least on Saturday we were.
We rode our bicycles downtown to the big, Portland State Farmer's Market early Saturday morning and had the best surprise ever as we walked down the park blocks.  Cars!  Lovely, lovely Italian cars!  There were a couple of Fiats, including my beloved Cinquecento, which made me cry (twice – such a waterworks, I am.  Thank goodness for sunglasses), lots of Alpha Romeos, a few Lancias, Maseratis, and Ferraris (Magnum P.I.).  Readers, I was verklempt at all the beauty and marvels of engineering.  Then I was incredibly sad that I left my camera at home.  A big boo hoo.  At least I got to see them.  I thank my lucky stars for that.
The market was full of life, happy people filling bags, baskets, and bellies.  We bought lots of yummy: two kinds of cheese, strawberries, cherries, peas, an artichoke, beef jerky, smoked salmon, and some baked goods to eat on the spot.  Our basket was full, and I was grateful the hubster was carrying it!
I made crepes for breakfast on Sunday, in which we put our delicious strawberries, and I thought of my brother Aaron.  When I lived with my parents, I'd make crepes once a year, always during strawberry season, and he'd get so excited, and eat, and eat, and eat.  That kind of happiness spreads.  So we enjoyed our crepes and thought sweet thoughts of him (recently engaged and a permanent member of the Wheat Ridge fire department!) before doing our chores.
I washed the windows.  They were filthy, and it took ages, but oh the difference!  The hubster mowed the lawn, did some laundry, and cleaned the kitchen in the time it took me.  Oy vay.  Then it was time for a snack, and the reason for the goofy photo.  I just started grabbing things to take outside and eat in the sun, and before I knew it, my hands were full.  Mr. Rogers would be proud, at least, a mostly healthy balance of protein, fruit, and grains.  Though I wish there was less plastic packaging.  Goll-ee, do I try to keep it to a minimum, but I love a Juanita's corn chip now and then, and beef jerky is darn tasty, too.  At least the container of nuts is one I've been re-using for years.  That's something.
So to Monday and a new week.  Here's hoping it is grand!