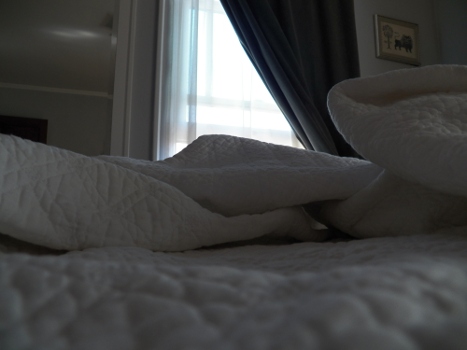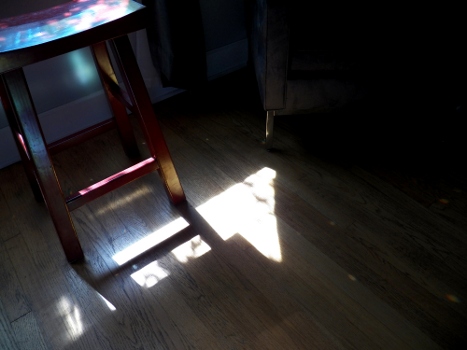 This is what it's looked like in our bedroom lately, all manner of lovely light, compliments of Monsieur Soleil. And as much as I am itching for the rain (Friday, they say), I sure will miss it.
How have you been? Well, I hope. The hubster and I, while cuddling in bed last night, me smelling his bearded cheek (heaven!), decided that we love our broken record life. Broken record, I say, because, at the end of every day, we say, "It was a great day!" and then cuddle and giggle and squeal (mostly me, save when I tickle him) under the covers. And it is true. Every day is a great day. Even when something shitty happens. Not like it did yesterday, but I am thinking back on other days, hard ones.
Like before my surgery and I was ALWAYS in pain. Those times when moving nearly made me retch because my insides were so very twisted, but I practiced yoga and went to the supermarket and smiled and laughed because I would not be foiled. I would not be beaten because the sun was shining, the hubster was smiling, the cats were purring, and I had friends. Or maybe a beloved song was on the hi-fi and I was dancing while the rain poured onto the pavement, and I could smell it, that scent of childhood and love.
There will always be shitty things. A nasty bruise on my arm from who knows what. Wrinkles. A migraine headache. Pain. A dirty house. Illness. A friend who doesn't call back. A mean neighbor. But there are even better things. Love. Home. Music. Dancing. Friends. Kindness. Flowers. Plums. Cheese. Cats. Dogs. Children. Laughter. Sun. Rain. Moon. Stars. I've got it all, right here, right now, always.
It is a great day…