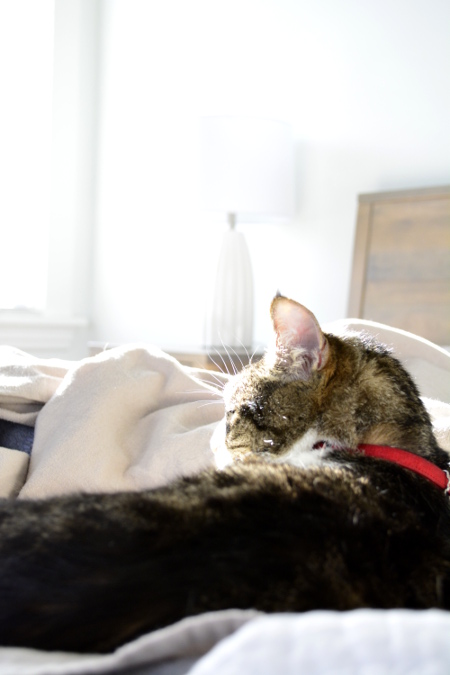 Moody Melancholia. The name of my current alter ego. It explains a lot.
The death of my Grandma remains a delicate open wound, visible to the naked eye of passersby.
And yesterday, our little schmoo Milo, after not eating for more than a day but producing a copious amount of foul vomit, breathing rough and ragged, and barely able to walk, laid and cuddled with me on the sofa to a Gilmore Girls marathon. I was awfully torn, telling him that if he needed to leave his little earthly body, he could, and that I would love him always. But in my heart and between my sobs, I selfishly prayed for him to stay, which he did, but who knows for how long. He is sixteen-and-a-half, O L D. The thing is, I do not want to lose both of my kitties and my Grandma in four months time. I do NOT.
My Grandma, whose body was cremated today. My God, the finality of that. She is really and truly gone. And here I am in Pittsburgh, this city that fits like shoes in dire need of breaking in. They look lovely, and I do not regret the purchase, but they hurt to wear for too long. The problem is that I already left the house. Dolled up and miles from home, I must keep going. Plodding awkwardly forward, hoping the blisters don't tear and bleed, I sulk a little, sometimes a lot, truth be told, before falling down the stairs and making the biggest raspberry known to man on my backside. Actually, not metaphorically. The hubster bearing witness, helpless and horrified.
Jeepers.
I am a hot mess.
Please send love and hot-cocoa thoughts while I search for a silver lining.