We grow quite a bit of mint and forget to use it more often than not. In a mint-lucid moment, I grabbed a bunch, whirred it in the Vitamix with lime and sugar syrup before topping it off with fizzy water. The color was a delightful almost neon, and the flavor equally electric. I am so parched looking at it that I think I'm going to beg off writing this post for a few to make another. You won't know the difference, and summer couldn't really ask for a better drink.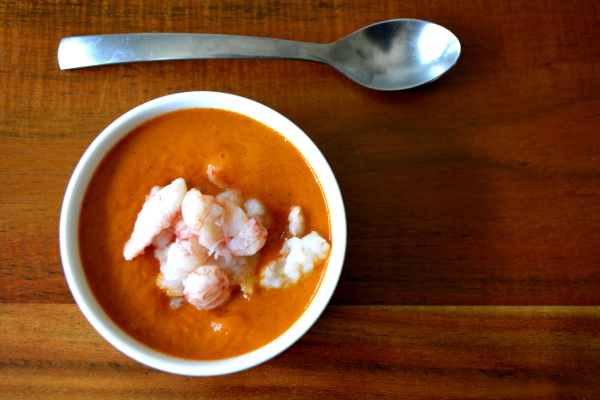 Well before the pandemic had us mostly confined, Greg and I found ourselves spending more and more time at home, thinking about moving to the country, as our need for space, starry skies, and silence grew more important. Interaction with other people, for in-theater movies, sporting events, art galleries and museums, and dining out became less and less so. And so, depsite the horrors and losses of this dreaded disease, we feel grateful to know that our isolation is neither a punishment nor a burden.
Additionally, and I sometimes feel snobby for saying so, but I like my food best. At the times when I crave something special, something I don't feel like cooking, or when I simply need a break from the kitchen, and we go out or order in, I am often disappointed, and Greg whispers, "Yours is better." So we are pinching the necessary pennies and hoping to have our own slice of quiet country life, hopefully sooner than later.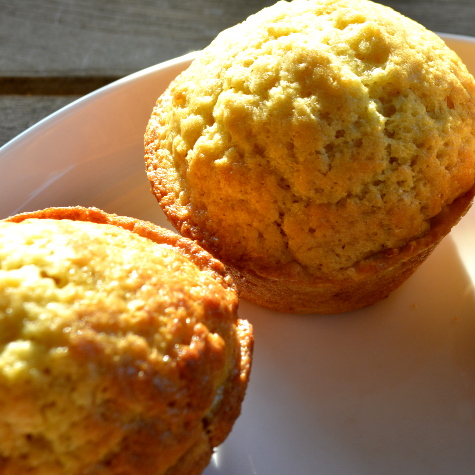 When we lived in Portland, our dear neighbor Pat went through the trauma of breast cancer. It was an awful and stressful time for her, and just about the only way we could help out was to make food. Her favorites were my lasagna (at least at the beginning, before she was terribly sick) and these ginger muffins. While rooting through recipes on the hunt for something else, I stumbled upon it, entitled, without an ounce of creativity, "Pat's Cancer Muffins." I don't remember if they were a riff off someone else's idea or my own fabrication. They don't look like much but were as tasty as I remembered. Maybe you'll like them, too.
3 oz piece unpeeled ginger root
3/4 cup sugar
2 tablespoons lemon zest
8 tablespoons unsalted butter, at room temperature
2 large eggs
1 cup buttermilk
2 cups flour
1/2 teaspoon salt
3/4 teaspoon baking soda
Cut ginger into large chunks. Process into tiny pieces. Alternatively, use a microplane to shred it or mince it by hand. Put the ginger and 1/4 cup sugar in a saucepan and cook over medium heat until the sugar is melted. Set aside to cool.
Add zest to ginger mixture.
Beat the butter with remaining sugar until smooth. Add the eggs, beat well. Add the buttermilk, beat until blended. Add the flour, salt, and baking soda, and beat until smooth. Add the ginger mixture, beat until well blended. Spoon batter into prepared muffin tin (I prefer to grease the tin rather than use papers for a crispy texture). Bake for 18-20 minutes at 375, or until a tester comes out clean. Serve warm.
Variation:
4 tablespoons butter & 4 tablespoons olive oil
1/2 cup buttermilk & 1/2 cup orange juice
zest of one orange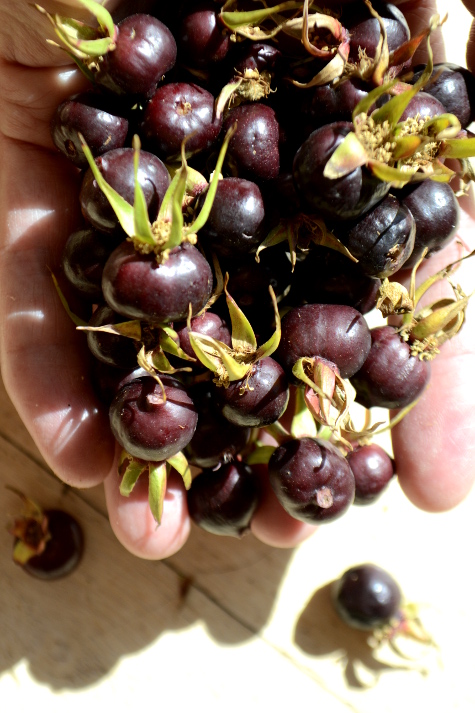 Grandma's rose bush made a heap of beautiful hips! I made delicious jelly!
The rim of Palmer Park between the trees. We walk here at least once a week, in most weather — Juniper hates the rain.