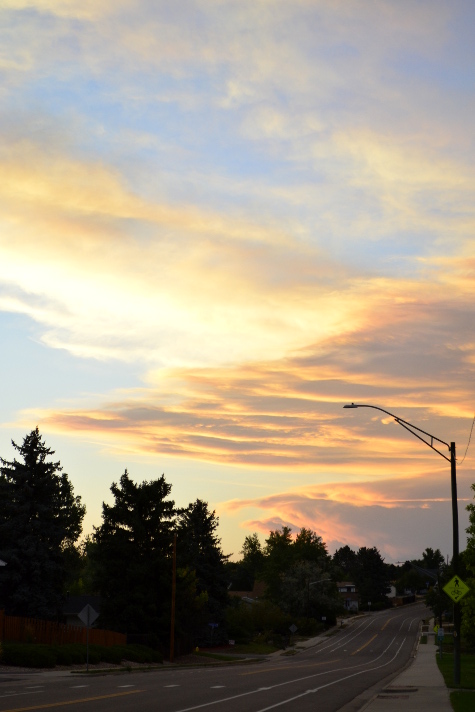 Sun down on the street where I grew up and where my parents live still. Arvada, and no, silly spell checker, I did not mean armada. The clouds are smoke from the Cameron Peak fire, the beautiful detritus of dreams gone up in flames. These will travel south, cloak us and choke us at our own house, some 80 miles distant, in the days following.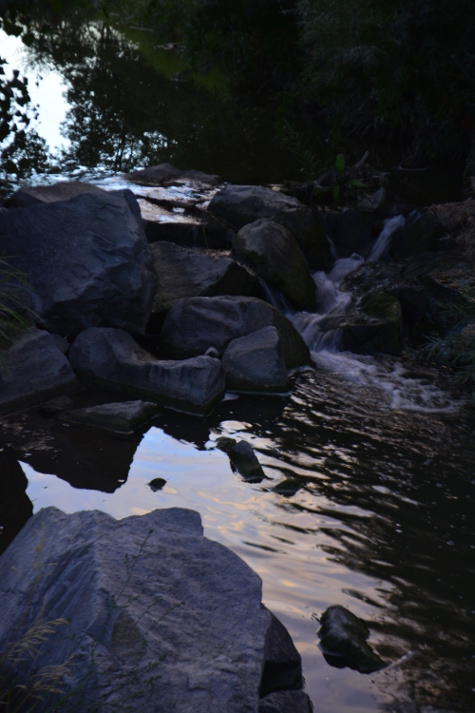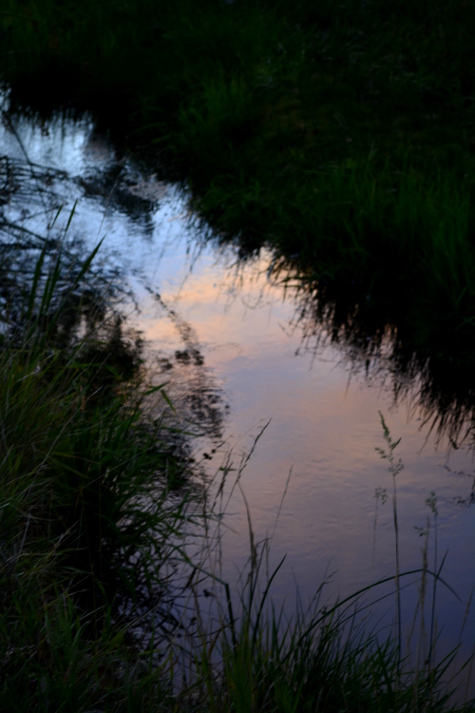 Little Dry Creek, babbly and bubbly and ever on the move. How distant the memories of childhood days spent along its banks. Feet in the water, eyes out for craw-dads.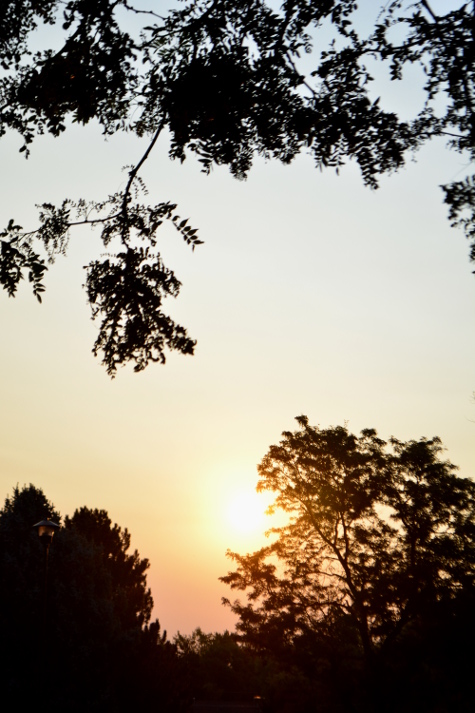 For two weeks in August, I descended, hard and fast off the cliff of depression. No right reason. No squirrel suit. No parachute. Every nerve and cell slowing to an excruciating crawl. As the days passed, I watched my movements, the swish of hand and step of foot as an alien in a new body might experience. Articulating joints and muscle concentrated and in hyper slow motion. My body but not my body.
Late one night, I made a tearful advance apology to Greg for a suicide I believed was inevitable and for which I had a solid plan. I felt as though every ounce of hope and purpose drained from my being.
Then, while lying in the bath (thank goodness for them!), I remembered another difficult time, from ages ago, and a description of the Dakini Bliss from Pema Chodron (I've included an excerpt about it after this entry). And so I asked myself, why can't THIS be the Dakini Bliss again? Why the hell not? Once I realized I couldn't reply in the negative, I knew the hardest part was over, hopped out of the bath, and told Greg I was safe.
<< >>
A few years ago, I was overwhelmed by deep anxiety, a fundamental, intense anxiety with no storyline attached. I felt very vulnerable, very afraid and raw. While I sat and breathed with it, relaxed into it, stayed with it, the terror did not abate. It was unrelenting after many days, and I didn't know what to do.
I went to see my teacher Dzigar Kongtrül, and he said, "Oh, I know that place." That was reassuring. He told me about times in his life when he had been caught in the same way. He said it had been an important part of his journey and had been a great teacher for him. Then he did something that shifted how I practice. He asked me to describe what I was experiencing. He asked me where I felt it. He asked me if it hurt physically and if it was hot or cold. He asked me to describe the quality of the sensation, as precisely as I could. This detailed exploration continued for a while, and then he brightened up and said "Ani Pema, that's the Dakini's Bliss. That's a high-level of spiritual bliss." I almost fell out of my chair. I thought, "Wow, this is great!" And I couldn't wait to feel that intensity again. And do you know what happened? When I eagerly sat down to practice, of course, since the resistance was gone, so was the anxiety.
I now know that at a nonverbal level the aversion to my experience had been very strong. I had been making the sensation bad. Basically, I just wanted it to go away. But when my teacher said "Dakini's bliss," it completely changed the way I looked at it. So that's what I learned: take an interest in your pain and your fear. Move closer, lean in, get curious; even for a moment, experience the feelings without labels, beyond being good or bad. Welcome them. Invite them. Do anything that helps melt the resistance.
Then the next time you lose heart and you can't bear to experience what you are feeling, you might recall this instruction: change the way you see it and lean in. That's basically the instruction that Dzigar Kongtrül gave me. And now I pass it on to you. Instead of blaming our discomfort on outer circumstances or on our own weakness, we can choose to stay present and awake to our experience, not rejecting it, not grasping it, not buying the stories that we relentlessly tell ourselves (Like the one uttering I needed to die). This is priceless advice that addresses the true cause of suffering – yours, mine, and that of all living beings.