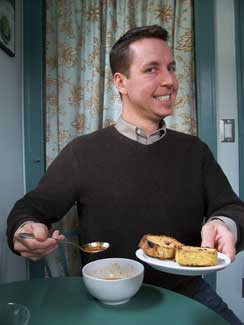 Though we never actually call it supper, the alliteration is rather nice.  Here are two recipes that are grin worthy and very delicious together, the sweetness and crunch of the bread a perfect match for the spicy soup:
Italian Sausage and White Bean Soup
1 cup white beans (navy, cannelini, or great northern), soaked overnight in 3 cups water
1/2 pound spicy Italian sausage, cooked and crumbled
1 medium onion, diced fine
2 cloves garlic, diced fine
1 red bell pepper, diced
1 teaspoon smoked paprika (don't use regular – the flavor isn't the same)
1 teaspoon dried sage
1/8  teaspoon red pepper flakes (optional)
1 piece dried kombu seaweed
4 cups chicken broth
1 teaspoon salt
Drain beans and set aside.  Heat a medium size soup pot (mine is a 4 quart), adding a teaspoon of oil or some of the fat rendered from cooking the sausage.  Add the onion and garlic and cook until translucent.  Add the remaining ingredients, except for the salt, and cook on very low heat for three hours or until beans are soft.  Remove the kombu, add salt, and serve.
No Knead Sage, Raisin, and Pine Nut Toaster Bread
3 cups flour (you might not use all of it)
1/3 cup sweetened condensed milk
2/3 cup milk
1/8 cup water
1 package yeast
1/4 teaspoon baking soda
1/2 teaspoon salt
1 tablespoon fresh chopped sage
1/4 cup raisins
1/4 cup pine nuts
I used the sweetened condensed milk because I had some left over from another recipe.  If you don't happen to have any, no worries.  Use 1 cup milk and 1-2 tablespoons sugar.  Grease an 8×4 loaf pan, set aside.  In a large mixing bowl, mix 1 1/2 cups flour, yeast, and baking soda.  Place the milk, water, sugar (if using), and salt in a small saucepan and heat until warm, about 120 degrees.  Do not allow to boil.  Pour into the flour and mix until incorporated.  Add raisins, nuts, and sage, mix well.  Add remaining flour, 1/4 cup at a time until well incorporated.  You want the dough to be slightly sticky, so don't add all the flour unless you need it.
Place in the loaf pan, cover loosely with a towel, and place somewhere warm for about 40 minutes.  It should be about double in size.  Twenty minutes before the dough is finished rising, turn the oven on to 400 and place an empty roasting pan on the lowest rack.  Once preheated, place the bread on the rack above the roasting pan.  Quickly add a cup of hot water to the roasting pan and close the door pronto!  We're using the steam to make it extra hot and get a crispier crust.  Bake for 25 minutes, until golden brown.  Allow to cool for about five minutes before removing from pan.
This bread has the texture of an English muffin, so it really is better toasted, hence the name.  Before serving your soup, toast up a slice or two of the bread, and serve together.  We didn't use any butter, but it would taste mighty fine with it.
This probably makes enough for six big bowls of soup paired with six thick slices of bread.  Happy eating.