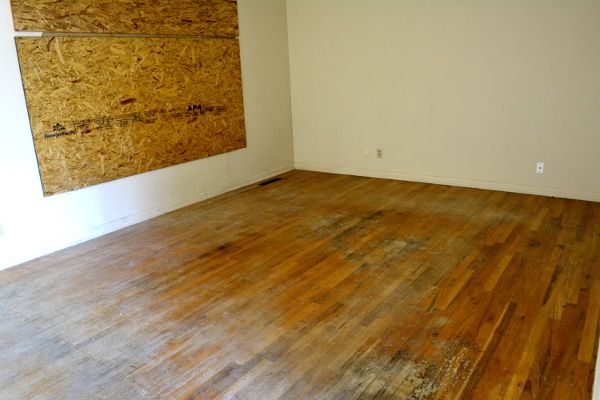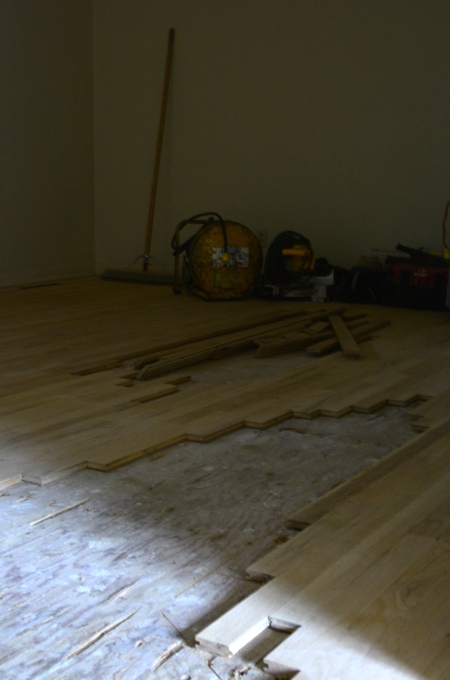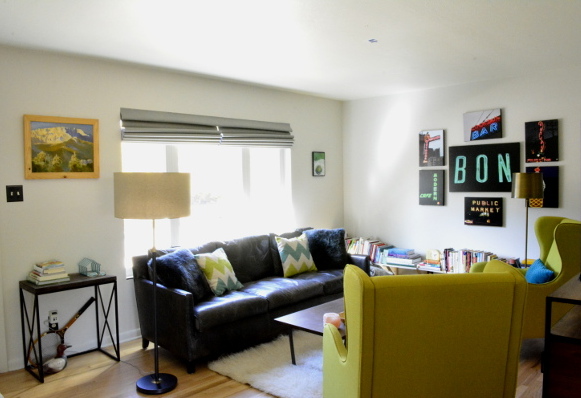 Looky what we did!! Damn. We've worked so hard over the past eight months. The only bit left to do in the living room is the light fixture, which is marked by blue tape that we keep forgetting to remove. Ha. I will be taking some more photos for the neon wall, of course. I love neon!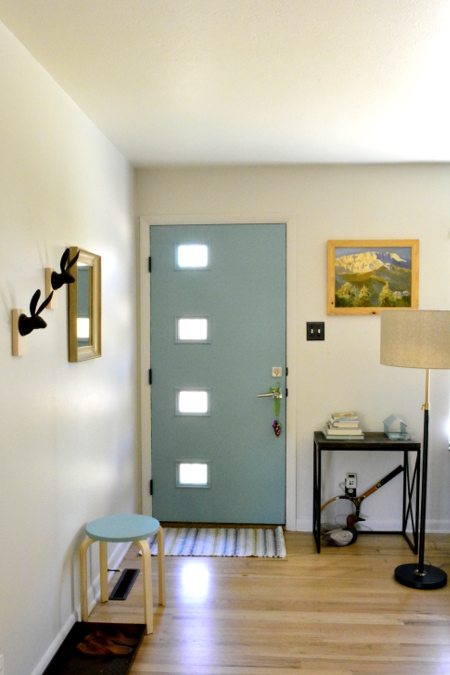 Our new front door, which I absolutely love! It's actually a shade of turquoise (and matches the cute stool), but it's looking more baby blue here. The rabbits are coat hooks. The old school tennis racket was my Dad's, and the painting is the one we bought in Crestone.
Our cool niche shelves, with new brackets. They hold a perfectly well-curated assortment of knick-knacks (my Grandpa carved the eagle and the duck in the photo above this one!), and have a nice view down the hall.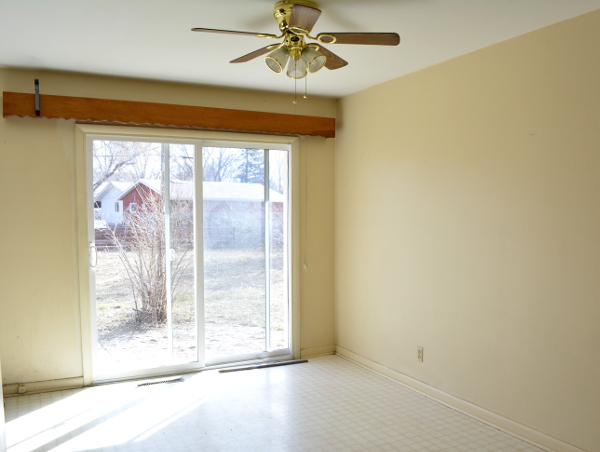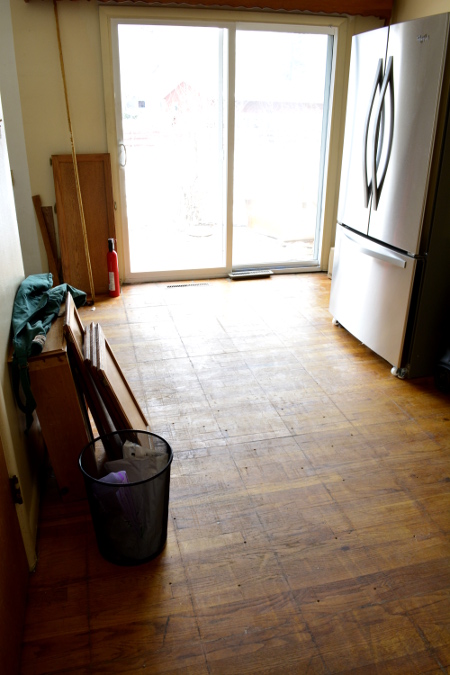 Our bright dining room! The original floor (which was also in the kitchen) was probably my biggest labor nightmare. It was one layer of crappy vinyl, one layer of plywood underlayment held down by about a thousand (I kid you not) one inch staples, and one layer of faux-brick tile under that. Oof, my poor hands.
But NOW, in the morning, the light of the sun warms my back while I eat and read. Happiness. I painted the closet door that terrific orange color to hide how badly beaten up it was. Not a single surface on the main floor was spared an update, and the reason why it took us so damn long.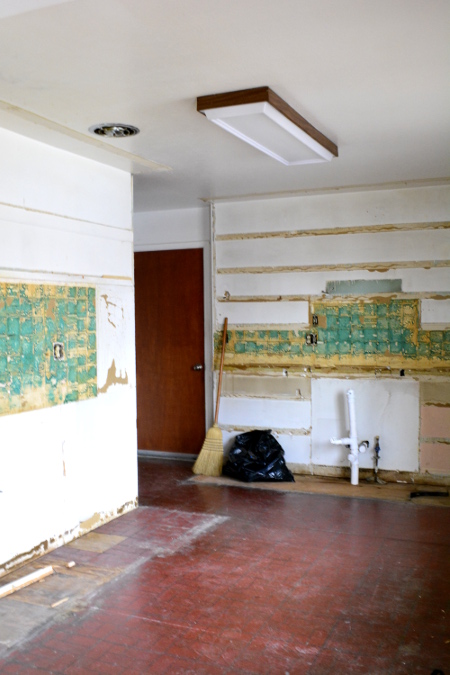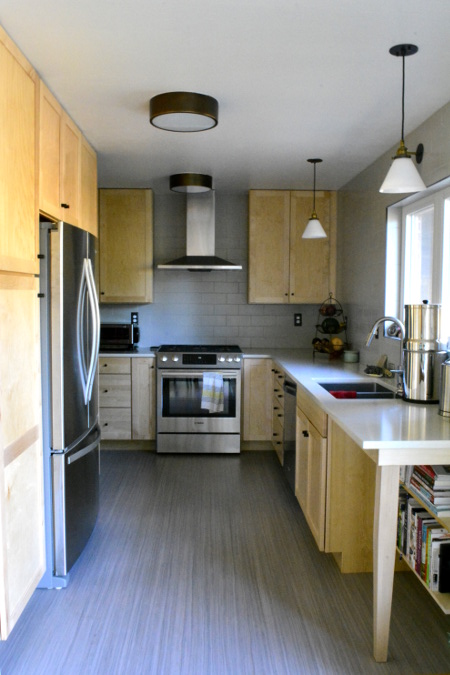 The kitchen. YOWZA. In the first two photos, you can see where the sink and dishwasher (which when we first turned on the water became GEYSERS) were originally. You can also see that there wasn't a place for a normal sized refrigerator. The giant window in the third photo was reduced by about a foot because it wasted a whole heck of a lot of wall space. Unless you were a child or a dwarf (Little person? I never know) any cabinet placed below that window would have been waaaay too low. I left the window wall without upper cabinets to avoid having the kitchen feel like a narrow hallway and to show off the hubster's mad electrician skills. He instaled all the cool lights; Restoration Hardware made them, however, every hardwired fixture on the main floor, actually. They've got my number.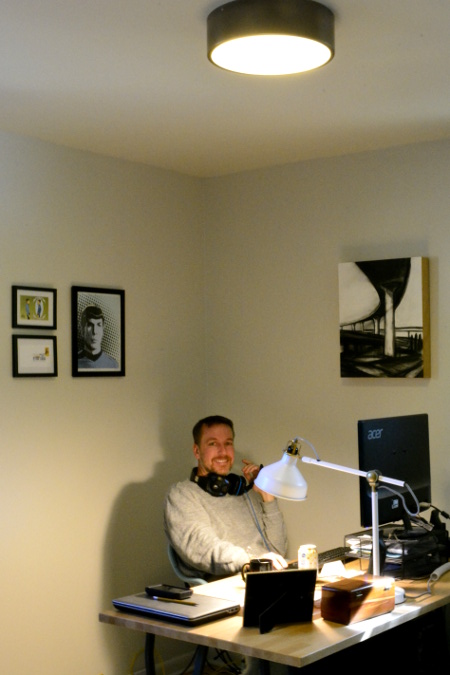 The best and only view of the hubster's office for the time being. What you can't see? Shower doors for the bathroom. Purdy.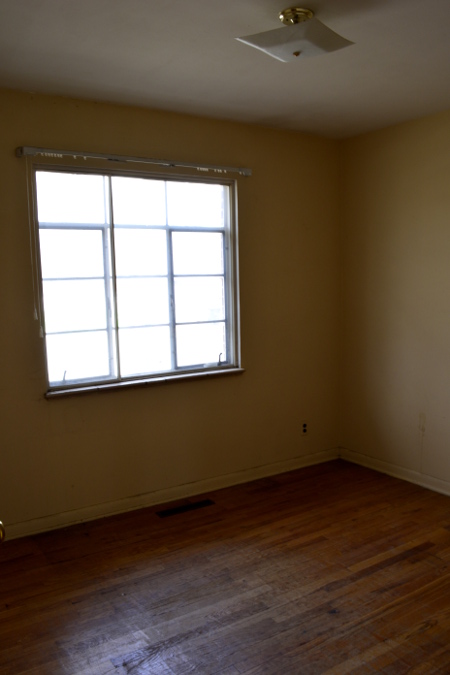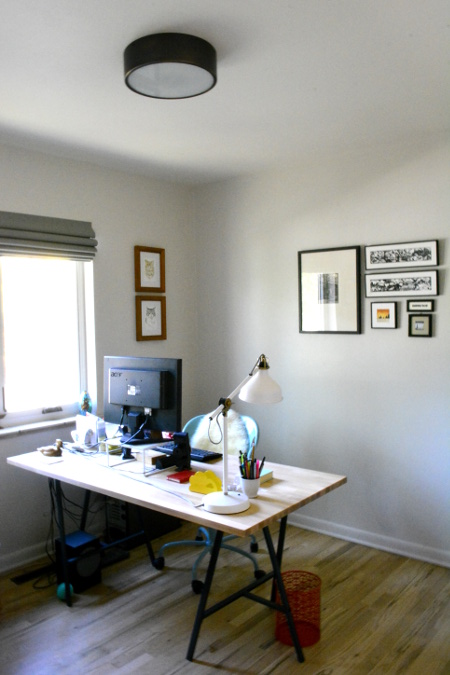 My office! Egads. I love, love, love it. The cool chest of drawers was my grandparents, and the hubster, when he needs a little break from work, sits in the chair next to it (he's doing it as I type, actually). I like that.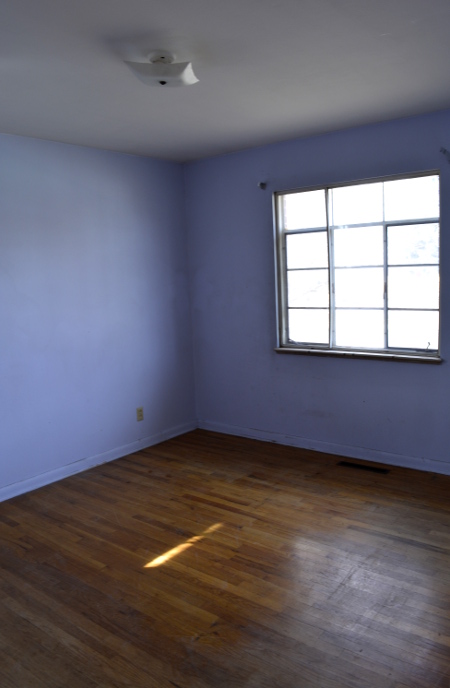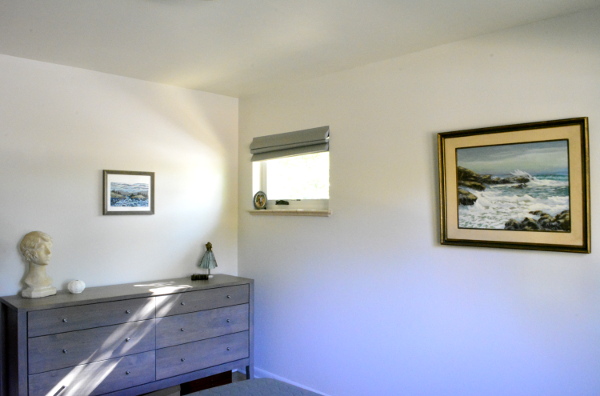 Sanctuary!!