It was a big weekend in our neck of the woods, much activity and entirely fun filled.  Friday, I made soup, a variation of my draped in velvet recipe, with a swirl of olive oil on top, as well as bread.  I don't bake bread often, but every time I do, it makes me very happy.  It smells so good, filling up the house with yeasty goodness, and the kneading is such a satisfying and meditative task.  Push, fold, turn, push, fold turn…  Maybe you'd like to make some, too.  Here's the recipe, adapted from Better Homes and Gardens 75th Anniversary Cookbook.  Gosh do I love this collection of recipes.  Such good basics!
Multigrain Bread
2 – 2 1/2 cups all purpose flour
1 1/2 teaspoons yeast
3/4 cup + 1 tablespoon water
2 tablespoons brown sugar
1 1/2 tablespoons butter
1 teaspoon salt
1/3 cup whole wheat flour
1/3 cup wheat germ
1/3 cup rolled oats
1 tablespoon flax seeds
In a medium mixing bowl, combine 1 cup flour and the yeast; set aside.  In a medium saucepan, combine water, sugar, butter, and salt, stirring until it reaches 120 degrees and butter almost melts.  Add water mixture to flour mixture.  Beat with a wooden spoon for about 3 minutes.  It will be very creamy.  Stir in the whole wheat flour, wheat germ, rolled oats, and flax seed.
Turn onto a lightly floured surface.  Knead in enough of the remaining all purpose flour to make a moderately stiff dough.  It should be smooth and elastic, not sticky.  Shape dough into a ball, place in a lightly greased bowl, cover, and let rise until doubled in size (1 – 1 1/2 hours).
Punch dough down.  Turn onto a lightly floured surface and allow to rest for 10 minutes.  Grease an 8″ loaf pan.  Shape the dough into a loaf to fit the pan.  Place in pan and allow to rise again, until doubled (30-45 minutes).
Bake in a 375 degree oven for 35-40 minutes or until bread sounds hollow when lightly tapped.  Immediately remove bread from pan and cool on a wire rack.
Enjoy!
We also went to an Eighties party fundraiser for the school that nearly all of my friends' children attend.  It was fun.  I replicated, nearly to the letter, an outfit I wore in high school (though my hair did not stay big and fluffy – such is life without hairspray), and then I dressed up the hubster like some of the boys I had major crushes on way back when.  He was even amenable to eyeliner, which was very cool of him.  Besides, it looked good, being so handsome and all.
Here are more photos, but since my friends are generally blog shy, I'm not going to tell you who they are, just that they mean the world to me!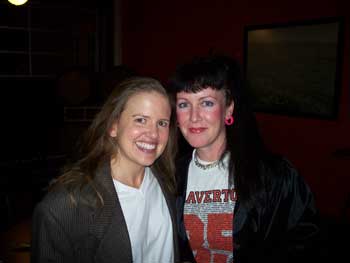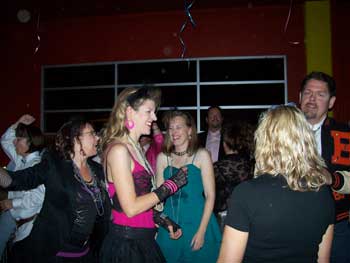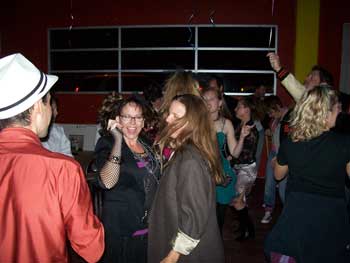 Don't forget to dance!