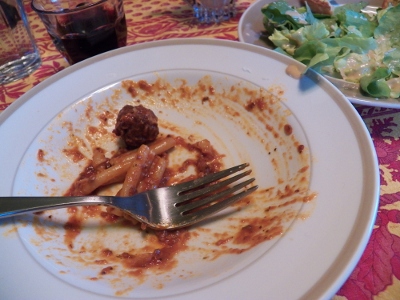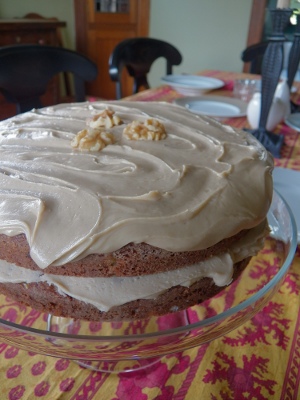 Good morning and welcome to our Saturday night!  A bit of a tomato fest, it was.  We were meant to have friends over (though they couldn't make it), and when I was trying to think of what to serve, I got this picture in my head of a glass of red wine, pasta with red sauce and sausage, garlic bread, and Caesar salad.
Does your mind work this way?  When I have ideas, I see a lot of pictures and then try to make the world match what I see.  Sometimes it is hard, as I do not know where to find the picture or how to make it, but most times, I am lucky, and it all works out.  For this, I picked all of our remaining ripe tomatoes off the vine and made, quite literally, the best sauce the hubster and I have ever tasted. It was simple, just a little bit of olive oil, five cloves pressed garlic, one pound spicy Italian sausage (via Afton Field Farm), red wine, a pinch of herbs and salt, the tomatoes, and a whole day to bubble over the lowest possible heat.
As for the cake, I had a ton of green tomatoes, and I remembered my friend Lori posted a recipe for a cake last year, so I adapted hers.  If you have any green tomatoes still clinging to the vine, I highly recommend making it and put the recipe below.  You will never ever know there are tomatoes in it, and, at times, it seems almost banana-y, crazy pinkie swear!  Dang, I think that's my first ever pinkie swear, so you know I mean business.
In response to my absence last week, we were busy, busy, busy.  We got a new fence to replace the one nearly blown over in a windstorm and are finishing our basement (the house is eighty years old– it's about time) and had to get ready, which meant cleaning out the garage so we could shift former basement items there, then clear the basement of about ninety percent of its contents, which was an awful lot of crap, truth be told.  The process took three whole days, one of which I was on my own, which was kind of a drag, but I managed.  Thankfully we were able to recycle, sell, or donate most of what we had.  To let you know the sad state of accumulation, we still took a whopping 520 pounds (!) to the dump, most of which was leftover from the previous owners, a large roll of carpet and some "I made them myself!" cabinets of the heaviest and ugliest variety.  We are glad to be rid of them.
Since I remain a silver lining type person, I must say that despite the exhaustion from all the work and the steady stream of people at the house, it was an awful lot of fun to drive our neighbor's big F150 (Thanks, Kelly) hither and yon to get rid of stuff.  It is the one vehicle the hubster absolutely does not like to drive and I absolutely relish.  Slovakian farmer roots, maybe?
Lori's Green Tomato Cake
4 cups green tomatoes, small dice
1 tablespoon salt
1/2 cup butter, softened
1 cup sugar
1/2 cup brown sugar
2 eggs
1 tablespoon nocino (I know – not something most have, but since I made some, and I love it, it's a good use for it.  Use vanilla if you don't have it.)
1 cup flour
1 cup whole wheat flour
1 teaspoon cinnamon
1 teaspoon baking soda
1/4 teaspoon salt
2/3 cup chopped walnuts
Brown Butter Frosting
1/2 cup butter
4 cups sifted powdered sugar
1/2 teaspoon cinnamon
3 tablespoons nocino (What can I say? The stuff is awesome.  Use milk if you don't have it.)
1 teaspoon vanilla (optional)
Place chopped tomatoes in a bowl and sprinkle with 1 tablespoon salt.  Let stand ten minutes.  Place in colander, rinse with cold water, and drain.
Preheat oven to 350.  Grease and flour two 8″ or 9″ round pans or simply grease a 13×9.
Cream butter and sugar, add eggs, nocino or vanilla, and beat until creamy.  Sift dry ingredients together, add walnuts.  Add dry ingredients to creamed mixture.  Dough will be very stiff.  Add drained tomatoes and mix well.  Spread into prepared pan(s).  Bake the round pans for 20-25 minutes, the 13×9 for 40-45.  Test with a toothpick for doneness.  Allow round pans to cool 10 minutes before turning onto a cooling rack.  Cool 13×9 in the pan.
For the frosting, melt the butter in a small pan over low heat until it is lightly browned.  This takes 10-15 minutes.  Place sifted powdered sugar and cinnamon in a bowl, add melted butter, and mix on low speed until incorporated.  Add nocino or milk, the optional vanilla, and whip until spreading consistency.  You may need more nocino/milk.  Spread over the cake, as desired.
Enjoy!