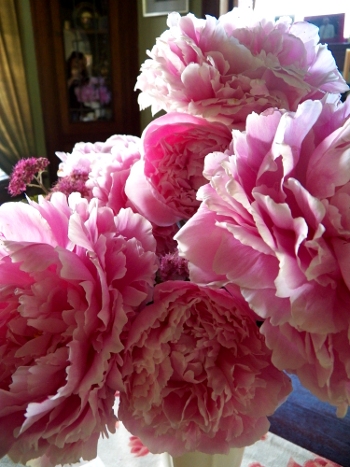 When I was in Denver, after every single visit with a friend or family member, in that very private place that was my rental car, I would cry. Sometimes they were tiny tears, stopped with a widening of the eyes and a deep sigh. Others were trickier, that salty-sweet spill on my lap and hands as I drove and sang to Radiohead or Iron & Wine. Worst, or best, actually, in hindsight, were the variety that came in a torrent, and I pulled the car to the side of the road while they did their work. I just saw someone special to me! They were right there and we hugged and laughed and talked until my throat was sore! So very many cough drops, my friends.
Then there were the times when the tears could not wait, like with Kelli when she was driving, or during lunch with Hef, and with my parents and grandparents, and when I caught my first glimpse of Wendy in the distance, the very first time since high school (that's twenty-three years, math lovers).
Then I got home, standing at the curb at the airport, and the hubster pulled up with this light in his eyes, so happy to see me, and we hugged for the longest time before taking the long way home, so I could see the city I love a bit more slowly.
And the other day, to celebrate another year of Colleen Sohn on this marvelous planet circling the sun, I had friends over. We ate and drank and talked and talked. And they humbled me with straight from the heart kindness and thoughtful gifts, but mostly their warm presence in my life.
So the title. All of this makes me think of that story, and how there was enough and more from impossibly little. My life is like that. Every time I think there couldn't be more kindness or love, someone shows me. Every time I think life couldn't be more beautiful, flowers bloom. A friend calls. A bird sings. A cat purrs. The hubster smiles. Music plays. I round the bend and there is the Saint John's Bridge.
Shining examples of how good it all is.