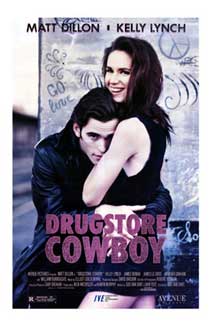 You might not know this about me, but I love movies.  When I started this whole blog endeavor, I knew that I would write about them, but what troubled me was deciding which one to write about first.  Some might say, how about your favorite?  Ooh la la! The word favorite is very tricky because it is so exclusive.  Here's an example:
What is your favorite food?
Well, what time of day is it?  Are we talking breakfast? Lunch? Snack? Dinner?  Dessert?  What is the weather like?  Am I feeling melancholy?  Happy?  Mellow?  I mean gosh, there are so many variables to contend with.  Yikes!
So here we are, after doing some serious calcualting, I arrived at Drugstore Cowboy, what I believe to be Matt Dillon's finest work.   The other actors aren't too shabby either.  I think this is Heather Graham's first.  And if you're a Sex and the City fan, you'll recognize Gentry right away.
To say that my mind is blown every time I view this film is putting it mildly.  There are so many reasons to love it. 
First off, the characters, and their very calculated means of staying high and breaking the law, are very real.  Yet, I can't help but root for them, especially Bob Hughes (an aside – this is always my bowling name).  He's a dope fiend, thief, not-so-nice person, but I like him more and more as the film progresses.  Perhaps it is his honesty.  This guy knows precisely who he is and what he's doing.  
Second, the cinematography, coupled with the lovely landscapes of the Pacific Northwest, is amazingly beautiful.  I love the cows and hats dreamily floating through the moisture laden sky. 
Third, this movie is filled with wonderful one-liners:  "What's a transom Bob?"  "Lord, it's my dope fiend thief of a son and his crazy little nymphomaniac wife."  "Jesus, Bob, you never told us anything about not mentioning dogs."
Fourth, the soundtrack is mighty fine: "The Israelite," "For All We Know," "Psychotic Reaction,"  and many more.
Then there's the story, it always comes back to the story.  For me, it is a wonderful coming of age tale.  Bob finally learns what is important in life and is willing to pay a very high price for it.  So very, very good.