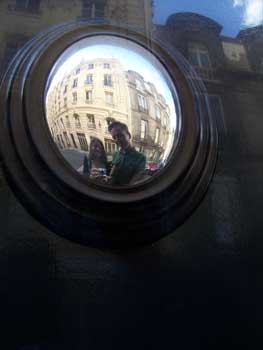 I've been having a difficult time accessing my inner Pollyanna these last few weeks, and all my usual tricks to make myself feel better – exercise, gardening, cooking, home projects – aren't having their desired effect, so here is a little something I saw over at my friend Kelli's to help me through.
Reasons I feel grateful today:
1. My cute partner in crime pictured above.  I love him and our life together more than words can say.
2. Also, to toot my own horn – I'm pretty fond of the composition of the above photo – the reflection in the mirror and the window are soo good lookin' (a little Seinfeld never hurts either).
3. I've almost made up my mind about all of these candidates, and there is less than a month left of television ads.  Yippee!
4. Not-so-guilty pleasure – I got Sex and the City: The Movie on DVD!  Maybe I should put some new batteries in the remote, because, gentle readers, I'm going to be pressing the pause button a-plenty analyzing all those wardrobe changes.
5. Time with good friends – Nia with Mara, movies with Bridget, and long phone conversations with Sarah, not to mention the upcoming Bunco night with the whole posse!
6.  The rain is back and my grass is turning green again…
Ahh, that helped!