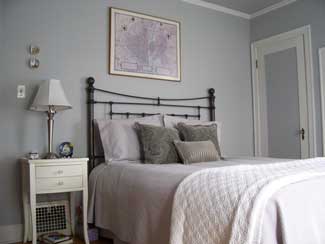 Hip hip hooray!  Our bedroom is complete, well, mostly.  I may make some tie backs for the curtains.  Close enough anyway.  Unfortunately, you cannot see what started the whole process in the photo – the windows.  I don't suppose it would matter if you could, though.  They look pretty much identical to the other windows, but these aren't seventy-seven years old, have cracks in the panes, or let in drafts when closed.  My home heating bill will soon say thank you.
Additionally, adding to the warmth factor, we got rid of the cheap and not terribly attractive plastic mini-blinds that came with the house and put up the gorgeous curtains.  They are heavy velvet and ever so lovely.  Additionally, when closed, they make the room super dark, even when it is light out, so we sleep better too.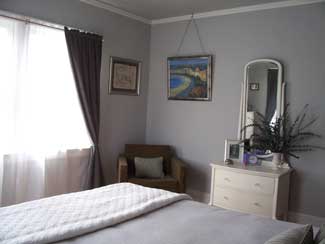 Oops, I forgot about the cat chair.  The photo hides it pretty well, but in person, you can see the work the Little Man and Paris have done on it.  Oy, great lines, but not so pretty.  This will get some new upholstery in the near future.  I've got a dark grey (like the curtains) microsuede for it.  Hopefully their little paws won't find it as appealing as the current fabric.
Something I love about decorating is filling the room with special memories.  Top to bottom:
The bedside table has a little Moomin plate that we bought in Finland on our honeymoon.  So very cute, it has a boy and a girl Moomin looking at a sailing ship.  It's about love and seeing the world together.
The gold-framed painting is the first we ever bought at an art gallery (Saks in Denver).  By John Lencicki, it is of a Citroen Deux Chevaux (two horses), my absolute favorite French car.
Above the cat chair, the frame on the left has a neat old map of Paris in it – Jeff, do you remember giving that to us?
The neat mirrored chest was my mom's growing up; it's my favorite piece of furniture in the room.
Now you know where I sleep.  Sweet dreams to us all…