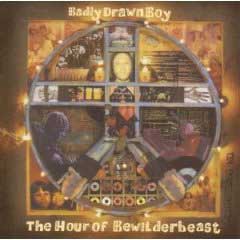 I had some friends over last night and this was one of our musical selections.   It is such a great soundtrack for fall, though I don't quite know why I make this association.  Which reminds me of a funny story.
When I was in high school and college, I listened to a lot of Van Morrison, because, well, that is what one does isn't it?  Golly, he was everywhere I went back then.  Anyway, there is this song, "Jackie Wilson Said," one that I always associated with Christmas.  I was with my friend Mitch and we were singing along to it, and I mentioned that fact to him, when suddenly the answer came.  He smiled and said, "It wouldn't be that would it?"  Sure enough, it was, "ding-a-ling-a-ling…"  I just about peed my pants with laughter.  Darn Christmas bells hiding in plain sight like that.
So there may be something that I'm missing with The Hour of Bewilderbeast, but here's what I do know.  The CD is nice and long (no feeling cheated – I paid that much for thirty minutes?!) and, musically, it goes all over the map.  There are some ethereal themes, rockin' tunes, quirky sounds (think underwater), and down right sweet lyrics.  If you are a fan of the film About a Boy (Hugh Grant's best, I think), this is the man in charge of that sound track.  Good listening!