But not a dollar short!
I had intended to show you some of this yesterday, but my camera batteries were dead, and by the time I got them recharged I wasn't fond of the light.  Hence the title, but, as everything has a lovely way of working out in these parts, I got to paint a little more whilst sitting in the gorgeous light you see above.
I love when the light looks like that, shining through the apple tree.  Judging by the shape of the fruits, we think it is a Red Delicious. It didn't bear as many as usual this year, which is a bit of a blessing.  Trying to keep up with the fruit can be a little crazy – applesauce, cider, chutney, butter, sliced and dried, piles to give away.  You get the idea.
Anyway, you will also notice a little watercolor station on my jammied lap.  Yep, jammies.  It is 3:11p.m. and I have yet to get properly dressed.  I have, however, worked out, gotten two loads of laundry out on the line, and painted in the shade of the aforementioned apple tree.  I'm not a total slacker.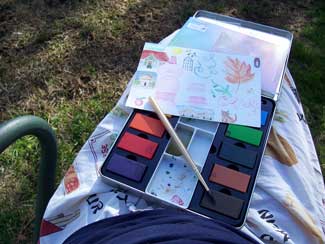 As for the painting, I took some classes in college, but hadn't really touched a brush since.  When I worked at Clark College, I attended a conference in the Seattle area.  We stayed in a kind of icky dormitory, but man-oh-man, did it have lovely grounds that were right on the Sound.  In the early mornings, I spied my colleague out sketching, and envied his air of peace and contemplation, really seeing his surroundings. It got me thinking that I'd like to to that someday.
Then, when we were in New Mexico this past summer, admiring the landscape, I wished for watercolors to magically appear, so I could capture my interpretation on paper.  It's popped in my head a few more times since, so yesterday, after dropping a package off at the post office, I walked to the art supply store and hooked myself up.  In addition to what is on my lap, I bought another pad of paper.  A good start.
I'm already having a grand time, which is certainly helped by my willingness to let go.  When I painted before, I was so wrapped up in getting it right that I didn't have a whole lot of fun.  Now I can let it be play.  What happens when I do this?  Neat!  And that?  Ooh, not what I was expecting.  As the kids say, "It's all good."
Is there anything you'd like to get back to doing or just try someday?