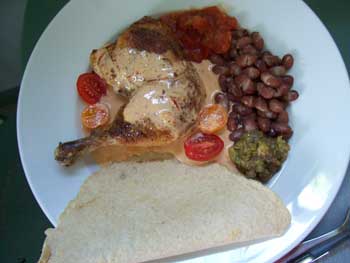 Hello Peeps!
I don't suppose that expression is in vogue any longer, or that last one for that matter, but I am terribly inept at keeping up with such things, and I suppose, rather tragically unhip.  It's okay.  I am also feeling summer slip through my fingers, along with keeping up with the blog.  We've had so many activities in our normally quiet life that I am having a hard time balancing anything.  Today, however, I am making a little extra effort, one that you can capitalize on, too.  Believe me when I tell you that this recipe can change lives and elevate dinner parties to great heights.  I can't tell you how many people swoon over this.  The best part?  Two ingredients!  Three if you need salt.  No kidding!
Greg and I first had this mighty fine sauce at Juanita's Uptown (sadly it disappeared years ago) in Denver with our super fun and rather cosmopolitan friends the Dews.  They lived in an apartment straight out of Dynasty, complete with an elevator.  The fun part (aside from their ebullient personalities and crazy personal histories) was the consternation on the part of the elevator operator when Susie hollered, "Beam them up Scotty!"
Anyway, the sauce came as an accompaniment to steamed mussels, which I love.  But it tasted so totally yummy that had I not been on good behavior (despite one of Bill's stellar and killer margaritas in my belly) in the company of friends and strangers, I could have forgone the mussels and warm tortillas, eaten the sauce with a spoon, and licked the bowl.  I kid you not.
I tried for ages to replicate the magic concoction with dried chipotles, cheese, flour, and just about everything else I could think of.  Then I was lucky enough to have one of the waitresses in a Geography class (hello college days) and she divulged the not so secret ingredients.  Chipotles in adobo sauce and whipping cream.  Seriously?  After all my hard work?  That was it?  Yup.
Whipping Cream
Chipotle Chiles in Adobo Sauce (available in the Latin section of the market)
In a small saucepan, add some cream.  You decide how much – I use anywhere from 1/2 cup to 1 1/2 cups, depending on how many people will be eating it.   Add a little bit of the chipotles (I blend the entire contents of a can, as it is usually whole chiles, in a food processor until fairly smooth and store in a jar in the refrigerator), stir, and taste.  Add more if the flavor seems too creamy or you want more spice.  It's really up to you.  Heat the sauce over medium until bubbly.  Allow it to reduce until thick.  Pour it over whatever strikes your fancy – chicken, pork, beef, mussels, enchiladas, a firm white fish, or a bowl full of beans.  You could also stand next to the stove, grab a stack of tortillas, dip them in the pan, and go to town.  It's all good.
Enjoy!