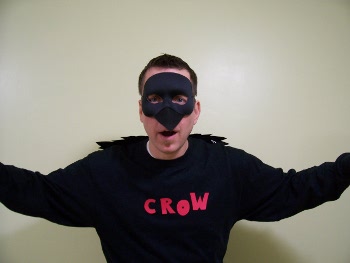 Happy Saturday!
How are you?  Enjoying fall?  It's been a pretty terrific one here,so far, lots of dry days and beautiful evenings, with enough rain to keep it interesting and moist.  "The night was moist."  Do you remember that from Throw Momma from the Train?  I love that movie.  Danny DeVito, you are wack-a-doodle and make me laugh.
So, to happenings as of late. Thank you, thank you, thank you for your lovely comments and support during my campaign to be a guest on Late Night with Jimmy Fallon.  You guys are beyond terrific.  Truly.  As for Mr. Fallon, he isn't banging down my door, but it's out there, as they say, and I just feel in my bones that something marvelous will come of it all.  Indeed I do.  If anything, I certainly have a great appreciation for anyone who writes and directs.  Those one minute films take a lot of effort!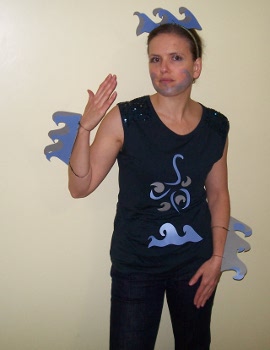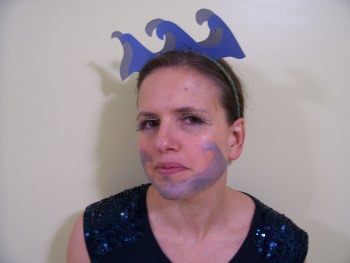 The first four photos, as you are likely to have surmised, are from Halloween (if not, maybe you should put down that cocktail!).  The hubster is, you guessed it, a crow!  Aren't his wings lovely?  I am water and definitely drawn to the abstract.  We had a grand time at our friends Satan (Stan the Insurance Man) and the Bar Wench's party.  There were many fine costumes, yummy drinks, and good food, like sausages wrapped in Pillsbury croissant dough.  I kid you not, those are the height of splendor in party fare!  I ate more than my fair share.
We also spent a lovely rooftop evening at a fund raiser for one of our new favorite places, Opal Creek Ancient Forest Center.  There was an awesome band called Stumbleweed (traditional bluegrass for all your high lonesome needs), cocktails served up from the stellar and local House Spirits (the Bees Knees!), and lots of delicious food prepared by Opal Creek's uber-chef Rebekah.  Not surprisingly, we met some very fine folks just as interested in keeping this gem of a place intact for the ages, including the architect for the rather deluxe and tallest building in the the blurry photo below.  How cool to be engaged in conversation and ask, "Would I know any of your work?" and have her grin and say, "Well, yes, that building right there."  Huzzah!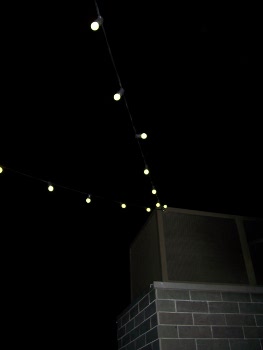 Finally, a little update on the Subaru.  After some reflection, we've decided to donate it to charity.  The hubster is a happy bicycle commuter three days a week, rain or shine, and we just don't need it.  Besides, the Portland Rescue Mission has what looks like a pretty terrific program that trains people to work on cars like ours before selling them to benefit their charity.  It's a pretty sweet deal all around.  I am even slightly grateful to the thug who stole our car for bringing this about.  Life is pretty sweet.
Be well!