Hello Everyone –
Many, many thanks for all of the well wishes this past week.  It means so very much to me!  I also would like to say that I am actually quite excited by it all.  I finally know what is happening in my body and have a clear plan to take care of it.  Additionally,  Greg and I have lived in this state of pain for so long that it's become pretty rote.  Just think of how happy and energetic I will be once this is over.  Watch out!
Does anyone remember the Post-It episode of Sex and the City?  Berger, Carrie, and Charlotte start talking about flowers somehow and Charlotte speaks of carnations with disdain while Carrie really likes them.  As you might have gathered by the fact I have them in my garden, and I take pictures of them, I, like Carrie, am also a fan.  I love the color of the plant – that nice green-blue, the myriad shades of the blossoms, and, of course, the sweet and spicy scent (much like my signature fragrance, Fendi – Donna).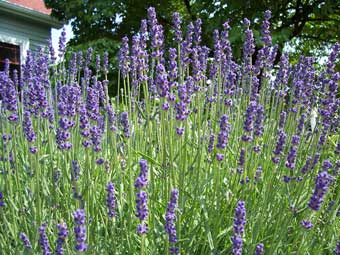 Ooh!  The lavender is almost in bloom.  Marcel Proust would be content to know that, quite like a madeleine for him, their scent stirs many memories of French vacations past for me.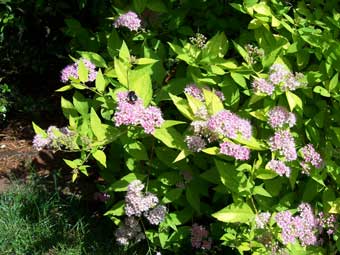 The spirea is in bloom and the bees are happy!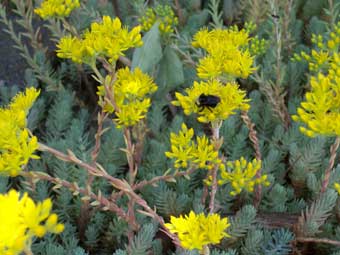 They also like the sedum in the parking strip.  It's so pretty, too!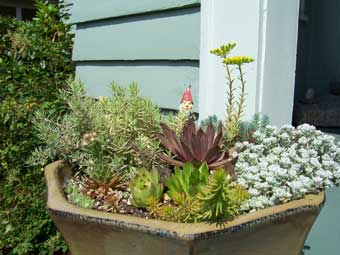 And now, look closely, yes, another gnome.  This little guy is Pfeiffer, and he makes five.  We have five garden gnomes.  It really must end here.  I thought four was quite enough, but, as it turns out, the hubster has a soft spot for gnomes who smoke a pipe.  Who am I to refuse?
Be well, my friends!