This is what kept today's post on the back burner.  I've never embedded a video before and needed a little help, though, thankfully, not as much as I thought.  I am a college graduate, after all.  I took this last Friday afternoon.  I stood by the window for quite a while (though the video is only forty seconds), awed and delighted by the volume of the birdsong and the gentle patter of rain drops.  Milo is pretty cute too, cleaning his little toes.  The sight of it makes me so happy.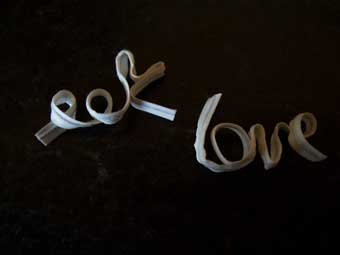 These are the twist ties used to bind the napkin and silverware at one of our favorite breakfast places, Broder.  It is always fun to make things with them while in eager anticipation of the food to come.  I've fashioned rings, hearts, single letters, waves, and Saturday, for the first time, words.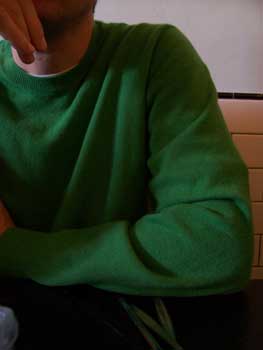 This is another one of my favorite sights, the hubster.  I, rather sneakily, took this photo after taking the one above.  Then it was time to eat:  the Pytti Panni for Greg – I think I'm spelling it right.  It is a yummy hash with bacon and pork and eggs over the top served with hearty walnut bread.  I had an utterly creamy and delicious tart with mushrooms and Meunster cheese with a nice green salad and a potato pancake, though, as I have turned into a total creature of habit, I kind of wished I had gotten my usual breakfast board instead – smoked trout, grapefruit, yogurt, cheese, and rye crisp.  There was coffee with cream too, of course, though decaf.  I've got too much energy for caffeine.  Seriously.