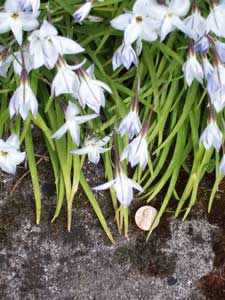 I love to find treasure.  Sometimes it is a perfectly formed pine cone.  Other times is is a leaf, a bird chirping, or the sight of the biggest, shiniest motorcycle kick stand.  Then there are the pennies.  I am thirty-six years old and still get jazzed when I find a penny.  If my husband happens to be around, I squeal with delight.  "Ooh looky Buddy (one of his pet names), a penny!"
He's never nearly as enthusiastic about the penny, but does enjoy my reaction.  He loves seeing me happy and excited.  You see,  wonder and beauty and gifts are all around us.  We just have to keep our eyes open, pay attention, and feel the joy rise.
So, when I found this wonderful quotation, I thought, why I could have written this myself, so true is it to my view of the world.
"There are many things to see, unwrapped gifts and free surprises.  The world is fairly studded and strewn with pennies cast broadside by a generous hand.  But – and this is the point – who gets excited by a mere penny?  If you follow one arrow, if you crouch motionless on a bank to watch a tremulous ripple thrill on the water and are rewarded by the sight of a muskrat paddling from its den, will you count that sight a chip of copper only, and go on your rueful way?  It is dire poverty indeed when a man is so malnourished and fatigued that he won't stoop to pick up a penny.  But if you cultivate a healthy poverty and simplicity, so that finding a penny will literally make your day, then, since the world is in fact planted in pennies, you have with your poverty bought a lifetime of days.  It is that simple.  What you see is what you get." 
Annie Dillard, Pilgrim at Tinker Creek
May you find your own treasure on this beautiful day…