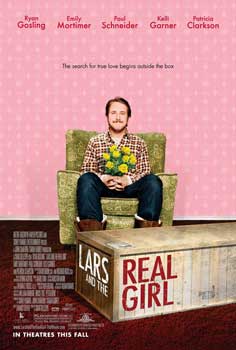 You know, I really love it when I find something that epitomizes what I enjoy most in life: love, beauty, simplicity, honesty, quirkiness, and music to go with it all.  So, I am just tickled to write about Lars and the Real Girl, because, for me, it was a charming way to package my favorites together.
First love, because that really is the cherry on top, isn't it?  This is the story of Lars Lindstrom, his family, and the small town that loves and supports him during a rather interesting time in his life.  You see, the rather sweet and mild mannered Lars has purchased a Real Doll named Bianca (bearing a slight resemblance to Angelina Jolie), and rather than keep her hidden in the bedroom like most men of his age would (Lars is a gentleman and a Christian, he would never), he introduces her to all, giving her a story and life of her own.
Beauty – Filmed in wintry Canada, the gorgeousness inherent in cold landscapes is here – falling snow, icicles, dormant grasses, and bare trees.  On a more spiritual level, the myriad ways his family and the town come together for Lars are really quite lovely.
Simplicity – I suppose it isn't a terribly simple story when a man takes a doll for his real girlfriend, yet it is when viewed through the lens of love and letting go.  As Yoda would say, "Do or do not – there is no try."
Honesty – Through his delusion, Lars is finally able to express himself and with great candor, inspiring those around him to do the same.
Quirkiness – Um, a grown man acts like a doll is his real  girlfriend and everyone plays along.  Enough said.
Music – The soundtrack, like Lars, is a complex mix of melancholy,  playful innocence, and carefully measured beats – very easy on the ears.  I think I'll buy it and play it on a loop.