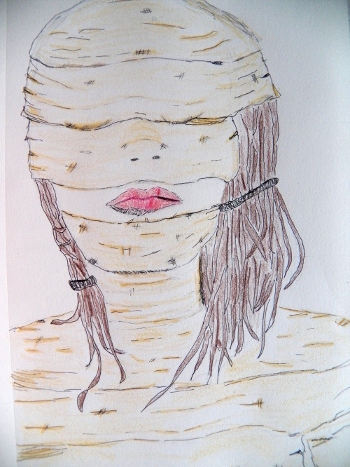 Marilyn and Jules had met about eight years ago at a rooftop margarita tasting. Their mutual friend Jill had originally arranged the tasting in hopes of setting Julies up with her new co-worker, Nina. Nina had been emboldened at the prospect of a new romance and a brand new box of hair dye she'd bought on impulse earlier that day. She applied her "Golden Gaia" while flipping through a magazine, dozing off for not the recommended thirty-five minutes, but forty five. Unfortunately for Nina, Jules had little interest in women who found hair-dye to be a practical expense and, upon being introduced to her, looked no further than her brutally white-blond strands before deeming her entirely un-dateable.
Disappointed early in the night, Jules took to the tasting table. As she re-salted her third rim she bumped hands with Marilyn who, set against the balmy sunset, a few gray hairs proudly crowning her head, cheeks glowing pink (Marilyn was salting her fourth), struck her as a figurehead of raw and unbridled feminine beauty.
Marilyn and Jules spent the night inseparable. Jules, who was a chatty drunk, did most of the talking, gesturing passionately about those who do yoga just because it's trendy (Nina) versus those who truly connect with the spiritual practice (Jules). Marilyn listened little but found her gesturing intoxicating, often becoming distracted by the striking appearance of Joann's sun-bleached hair, eyebrows and eyelashes against her golden colored skin. This especially attracted Marylin as it kept reminding her to think about really, seriously, finally trying out that box of blond hair dye nearing its expiration date in the back of her medicine cabinet. (This box, in addition to Marylin's newly purchased yogaerobics DVDs, were swiftly discarded after that night of Jules' many fervent rants about women today).
Seven months after Jules met Marilyn at the rooftop tasting, she slipped a copy of her key underneath Marilyn's slice of toast one morning, asking her to move into her one bedroom.
Not quite two years after that, Marilyn and Jules were married in a tasteful yet practical commitment ceremony, (no white involved), before twenty of their closest friends and family.
Life was beyond ideal for the two and almost daily people would remark at how lucky they were to have found each other. For, not only were Marilyn and Jules an unbelievable match…
…Marilyn and Jules were also mummies.
…
Art & Letters is a collaboration:
It's a switcheroo!
Story by Maren Jensen
Drawing by Colleen Sohn