When I was a kid, I loved spinning.  Loved it.  I would go out in our rather capacious yard, extend my arms and go like a top.  I'd focus on the undulation of my fingers as I twirled, greens and browns streaking by.  Then when I couldn't take another second, I'd drop dramatically to the ground, look up at the sky and marvel in the sensation that, despite my stillness, my body was still spinning.  Heaven.  This was such a habit that my Mom told me I'd likely grow up to be a dervish.  While I do love watching them, I've never actually become one, save, I suppose, for the occasional wild romp in the yard and cleaning.
Mondays are top to bottom cleaning days around here – laundry, vacuuming, mopping, dusting, toilet scrubbing – the whole kit and kaboodle.  I used to do a little each day but then felt like that was all I was doing, and it left me kind of depressed.  Now that it is condensed into one day, I get a pretty good workout and a gleaming, sweet smelling house at the end.  By the way, is it wrong to be in love with the scent of Murphy's Oil Soap?  If it is, sign me up for the program to get me off the stuff.  Gosh it smells gooood.
The only problem with my dervish style clean is that I am pretty tuckered out by the end of the day and not terribly keen on making dinner.  Thankfully there are fast, make at home meals like this that are delicious without being at all taxing.  Otherwise, I don't know what we'd be eating; maybe chips and salsa?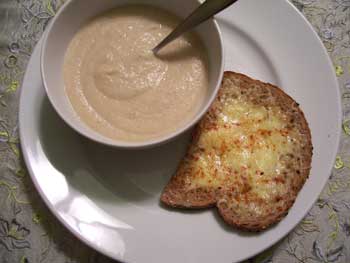 Roasted Cauliflower Soup
1 head cauliflower
olive oil
1/2 of one small onion
2 cloves garlic
1/4 cup raw cashews
3 cups chicken or vegetable broth
salt and pepper to taste
Preheat the oven to 425 degrees.  Remove the stem and leaves from the cauliflower.  Break up the head into florets.  Place on a baking pan and roast for 15 minutes, until golden brown.
Meanwhile, roughly chop the onion and garlic.  Saute with a bit of olive oil in a medium soup pot over medium heat until translucent.  Add roasted cauliflower, cashews, and broth; bring to a boil.  Turn the heat to low and puree with an immersion blender or process in a blender in batches until smooth.  Season with salt and pepper.  Makes about four adult sized bowls (I know, so precise).
We had ours with a little cheese toast (with Dave's Killer Bread! Good bread and an even better story) sprinkle with smoked paprika.  It was delicious and warm.  Warm is good, too.
Enjoy!